You are here

Update on Economic Recovery
Update on Economic Recovery
Submitted by MIRUS Financial Partners on July 16th, 2020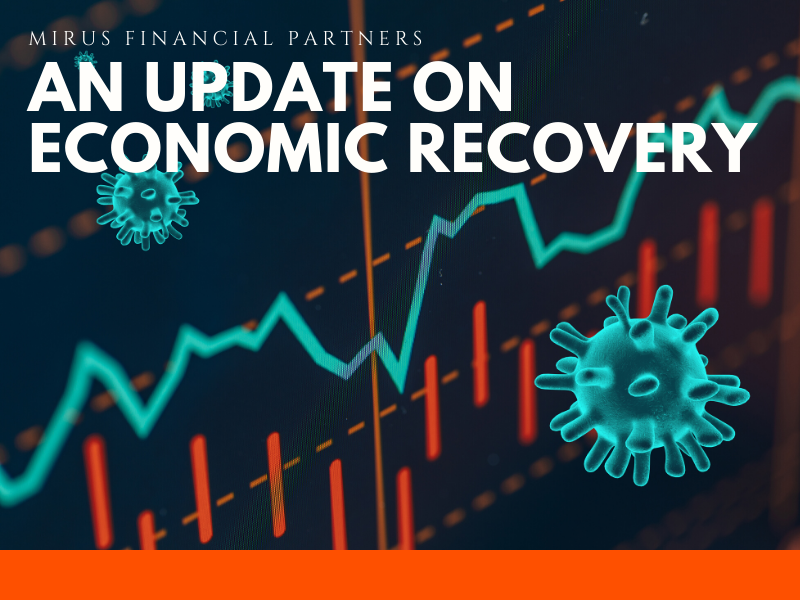 The National Bureau of Economic Research (NBER), which has official responsibility for determining U.S. business cycles, announced on June 8 that February 2020 marked the beginning of a recession.1
The NBER definition of a recession is "a decline in economic activity that lasts more than a few months." While it typically takes at least six months to identify a down cycle, the NBER's Business Cycle Dating Committee noted that "the unprecedented magnitude of the decline in employment and production, and its broad reach across the entire economy," accelerated their designation of a recession.2 The U.S. economy decreased at an annual rate of 5 percent in the first quarter of 2020.
Early Estimates Show a 35.5 Percent Drop in the Second Quarter
Although the official estimate for the second quarter won't be released until July 30, the Federal Reserve Bank of Atlanta keeps a running estimate. As of July 9, the Atlanta Fed estimated that GDP would drop at a 35.5 percent annual rate in the second quarter.4 If this estimate is correct, this is the most significant quarterly drop since the end of World War II.
Experts are Hopeful for Improvements in the Third Quarter
Most economists believe that GDP will increase in the third quarter as businesses continue to open.6 However, it may take several good quarters to return the economy to its robust, pre-recession level.
A 6.5 Percent Drop for GDP in 2020, and Modest Growth in 2021 and 2022
In its June economic projections, the Federal Reserve Open Market Committee projected a 6.5 percent annual drop in GDP for 2020. However, in 2021 the GDP is predicted to increase by 5.0 percent and by an additional 3.5 percent in 2022.7
What is the Shape of the Recovery?
Economists traditionally view economic recessions and recoveries as having a shape, named after the letter it resembles. "V" shaped recoveries fall and rebound quickly. "W" recoveries go up and down quickly, and more than once. "L" shaped recoveries are characterized by a quick drop and a long, slow recovery. "U" shaped recoveries have a more gradual dip, a year or so at the bottom, and then a gradual recovery.
Which shape is most likely for this recession? In the July Economic Forecasting Survey by The Wall Street Journal, which polls more than 60 U.S. economists each month, 13 percent of respondents predicted a V-shaped recovery, 11.1 percent chose W-shaped. 5.5 percent believe it will be U-shaped, and none thought it would be L-shaped.8
The remaining 70.4 percent believe the recovery will take a "Nike swoosh" shape, which suggests a sharp drop, quickly followed by a long, slow recovery.9 Experts factor in the possibility that businesses will be reluctant to rehire, and consumers will hesitate to resume pre-recession spending patterns. Some industries will struggle to recover, notably airlines, travel, large events, and other high-contact businesses that may not fully recover until a vaccine is developed.10
Will it be a Brief Recession with a Slow Recovery?
While many experts expect the duration of the recession to be brief, there is much debate about the nature and speed of the recovery. The control of COVID-19 will be a major factor, and as we all know, the control and management of this virus are still unfolding. It's also important to remember that the pandemic is changing the U.S. and global economies in ways that are still being examined and analyzed.
Time for a Financial Review?
If you want to discuss how your financial planning works in this ever-changing environment, contact us at Mirus Financial Partners, and we'll schedule a contactless financial review.
Want to learn more about economic forecasts and cycles? Check out these articles from Mirus Financial Partners;
What are Negative Interest Rates?
What You Need to Remember When the Market Drops
Understanding Financial Cycles