You are here

What are Negative Interest Rates?
What are Negative Interest Rates?
Submitted by MIRUS Financial Partners on July 7th, 2020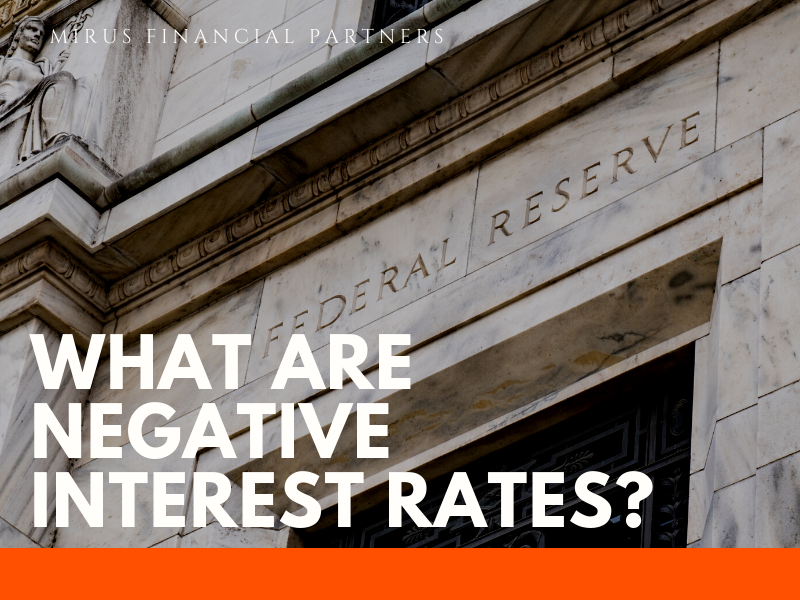 Negative interest rates can make people uncomfortable. We're used to rates going up and going down, but negative rates are new to most Americans.
What are negative rates? To encourage lending and spending, the U.S. Federal Reserve (Fed) has set interest rates at nearly zero to encourage more borrowing. In an effort to give the economy a bigger boost to get through the COVID-19 pandemic, the Fed has discussed implementing a controversial policy—negative interest rates.
Interest Rates Usually Work in two Ways
When the Fed is trying to combat the threat of high inflation, it may raise interest rates to make it harder to borrow money, slow spending, and reduce the risk of runaway inflation.
Conversely, when the economy needs support, lower interest rates are put in place to encourage spending and increase the volume of investments.
There is a Third Interest Rate Option
Negative interest rates are a fairly new phenomenon. When negative interest rates are in place, borrowers are credited with interest rather than paying interest. This strategy has never been implemented in the U.S.
However, the European Central Bank and the Bank of Japan have used negative interest rates in recent years. When negative rates are in place, the theory is that it becomes more beneficial to spend money than to save it. For businesses and some consumers, negative rates provide an incentive to invest in big purchases that need to be financed. From the lender's point of view, they take a little hit now in exchange for a long-term economic gain.
How do banks and lenders pay for this? Sometimes banks absorb the cost of negative rates. In other situations, they can pass the costs on to consumers by raising bank fees. However, negative interest rates are so low that it could discourage savers. Savers may actually lose money by keeping it in the bank, especially after factoring in inflation.
Negative Interest Rates and Bonds
Bondholders also dislike negative interest rates. After all, a bond with a negative yield can't pay interest, and bondholders may even lose some or all of the original purchase price.
But that doesn't mean that bonds stop being an important investment. Even if negative interest rates are implemented, U.S. government debt is still considered a high-quality, "safe haven" investment. Low or negative rates don't negate creditworthiness.
There's debate as to the effectiveness of negative rates. It's a new strategy that was first put into place in 2014 by the European Central Bank. With so little history behind it, it's a controversial tactic.
The Fed has consistently opposed pushing rates below zero, so negative interest rates in the U.S. are unlikely. The Fed remains concerned that the risks outweigh the rewards.
Want to Talk About Your Situation?
In this unique environment, new options are being discussed. No one can predict the future, but you can be prepared to react to scenarios with a little planning. If you want to find out what near zero, zero, or negative interest rates mean for your portfolio, contact me today to set up a personal consultation.
What to learn more about interest rates? Check out these articles from Mirus Financial Partners:
Interest Rates are Rising. Now What?
Test Your Interest Rate Knowledge