You are here

Don't Fear the Bear: What You Need to Remember When Stock Prices Drop
Don't Fear the Bear: What You Need to Remember When Stock Prices Drop
Submitted by MIRUS Financial Partners on March 1st, 2020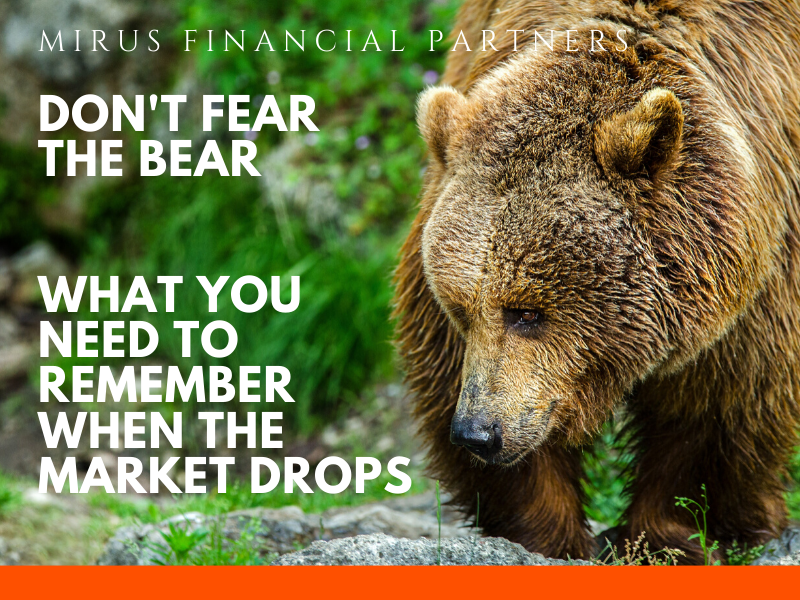 The United States has experienced a decade of bull markets, but as any financial expert will tell you, no bull market lasts forever. While seeing drops in the market may feel discouraging, it's important to remember that bear markets, in which stock prices decrease, are normal parts of the stock cycle.
And after ten years of bullish performances, it may be time for the market to reset from its record-setting performance. Here's what you need to know about bear, or down, markets.
What is a Bear Market?
First off, let's review the definition of a bear market. According to the Merriam Webster dictionary, a bear market is one "in which securities or commodities are persistently declining in value." However, this definition may be off a bit. In fact, a bear market is one in which securities or commodities are persistently declining in price. While this seems like a small difference, it's an important distinction.
The prices of stocks and commodities rise and fall every day. Many things can affect these prices, including world political situations, the election of a new president, unemployment rates, earnings statements, rumors of mergers, new legislation, and more. However, these factors might not actually affect the real value of your investment. Prices go up and down, but the value can be assessed quarterly in earning statements.
How to Monitor a Bear Market
Watching falling market prices can be gut-wrenching, but these cycles are regular, normal, and have occurred throughout the history of the market. In fact, there have been 25 bear markets in the S&P 500 Index2 in the last 90 years. However, there have also been 26 bull markets—and stocks have risen over the long term.
Here are some things to remember.
Bear Markets are Historically Shorter Than Bull Markets
In the last 90 years of market history, 20.5 years have been considered bear markets, while 69.5 have been bull markets.
20 Percent Shifts Signal the Change From Bull to Bear
Market cycles are measured from peak to trough. When the closing price drops at least 20 percent from its most recent high, it's considered a bear market. When the closing price gains 20 percent from its low, it's considered a bull market.
The Average Bear Market Loss is 36 percent
The average bull market gain is 112 percent.
Bull Markets Happen Every 3.6 Years
Over time, the average frequency between bear markets is 3.6 years. We're coming off a ten-year bull market, which is an usually long bull market.
Remember That Bear Markets and Recessions Don't Always Happen Together
Since 1929, we've seen 25 bear markets, but only 14 recessions.
What Should You do in a Bear Market?
You've heard it from us before, and we'll say it again. If you're investing is a long-term strategy, don't get too concerned about bear markets. History shows us that a bear market is probably going to be a short-term dip in a long-term rise. (However, past performance does not guarantee future results.) Over time the market has gone up consistently, and bear markets have always been a part of that cycle.
However, if you are close to retirement or using stock investments for long-term returns, you may want to talk with a professional financial advisor to assess your options. For some investors, it may make sense to shift your investments into bonds or other investment vehicles.
Source: Ned Davis Research, 1/20 and Hartford Funds "10 Things You Should Know About a Bear Market"
* * *
If you're an individual who wants to review your investments, assets, life insurance, or retirement plan, or if you're a business owner who wants to review the composition of your company's retirement benefits, contact Mark A. Vergenes for a free and personalized consultation.
Want to learn more about market risk? Check out these articles:
Understanding Economic and Financial Cycles
The Bull Market Turned 10 in March
Don't Count Your Chickens and Other Truisms to Remember in a Volatile Market
Investment Risk – Friend or Foe?