You are here

Is it Wise to Hold Equities Long Term? 
Is it Wise to Hold Equities Long Term? 
Submitted by MIRUS Financial Partners on March 12th, 2020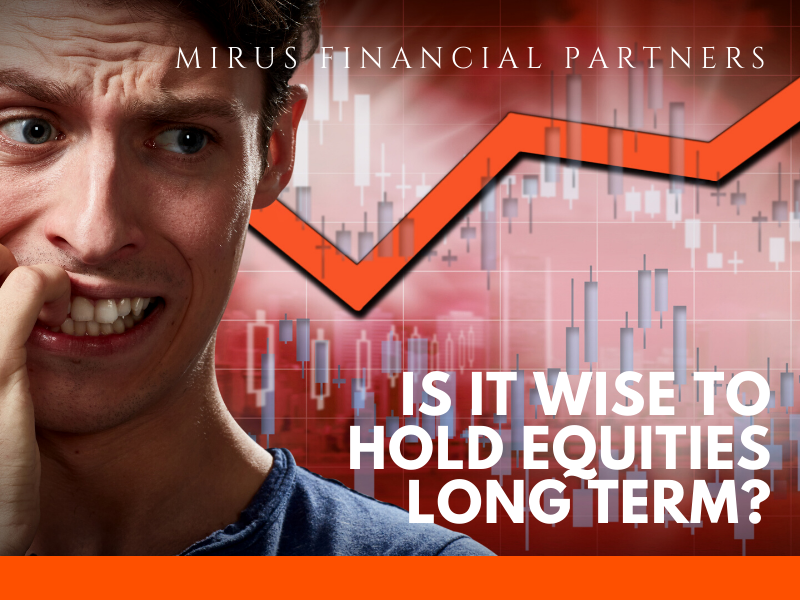 With all the events and surprises of the last week, some people are feeling nervous about their investments. However, most financial experts agree that equities, or stocks, are still outperforming bonds, cash, and inflation over the long-term, though past performance is no guarantee of future results, and those returns also have involved higher volatility.
It can be challenging to stay confident and patient when the stock market is falling year after year, as it did in 2000-2002. It was also tough to wait it out in 2008, the worst year for the since the Great Depression.
But when it comes to stocks, it's not enough to have a long-term investing strategy. You must also be able to stick with your strategy over the long-haul, through bull AND bear markets.
Defining a Long-Term Investing Strategy
The definition of "long term" changes from investor to investor, and your own definition will depend on your financial goals and timing. For example, a 65-year-old retiree thinks of "long-term" differently than a person in their 20's, just starting to build their portfolio.
As a rule, the shorter you plan to hold your investments, the more risk you incur. For example, if you're planning to start withdrawing in four years or less, you may want to invest more conservatively, and may even want to withdraw from the market altogether. However, if you're not planning on using those funds for a decade or more, it may be wise to sit it out and take advantage of the potential for long-term gains.
Don't Panic: Plan

to Meet Long-Term Financial Goals
When you're investing, it makes sense to set some parameters for your portfolio. By setting up guidelines that you can follow when the market gets turbulent, you can make calmer, less emotional decisions. As an example, you may decide that if the market rises by a certain percentage, you will take your profits and put them in other vehicles, or a money market account. You may decide that when the market falls a certain percentage, you will take money from that money market and buy low. Or you may decide that at specific points, you will shift funds into less volatile investments as you get nearer to retirement because you have less time to recoup losses.
Current Stock Performance may not Reflect Past Results
Remember that you're investing long-term. Even if you've suffered some recent losses, you may have gained substantially since you started investing. Instead of worrying about day-to-day market movements, focus on long-term progress. And remember that the current situation is unlikely to be permanent.
Don't Ignore Cash in Your Financial Plan
Cash holdings historically provide much lower long-term returns, but they are also much less volatile. No, your cash doesn't go up and up in value. Conversely, its value doesn't plummet. For individuals who find that placing all their savings in investments is too risky or stressful, keeping some of those funds in cash reserves can provide the financial cushion you need to endure some volatility in the market. Appropriate asset allocation also provides financial resources that you may need to weather a bear market without having to sell low.
A cash allocation, paired with a disciplined investing strategy, helps nervous investors get through market downturns with a minimum of worry. Cash reserves also position you to buy low if investing bargains are presented.
Not All Stocks Rise and Fall With the Index
When the market dives, it seems that all stocks plunge. But in fact, many stocks and classes of shares hold their value or experience much less volatility. Before you panic, review your portfolio to see how it compares against the indexes. Your losses may be less, or higher, than the indexes report.
Learn From Your Investing Mistakes
Many self-guided investors get very confident during bull markets. The fact is, almost any investor can make money when the market is roaring upwards. However, in a bear market, investors may need professional help to thrive. If you've invested poorly, make sure you learn why, and avoid those mistakes in the future.
If you're an individual who wants to review your investments, assets, life insurance, or retirement plan, or if you're a business owner who wants to review the composition of your company's retirement benefits, contact Mark A. Vergenes for a free and personalized consultation.
Want to learn more about market risk? Check out these articles:
Understanding Economic and Financial Cycles
The Bull Market Turned 10 in March
Don't Count Your Chickens and Other Truisms to Remember in a Volatile Market
Investment Risk – Friend or Foe?