You are here

Investment Risk – Friend or Foe?
Investment Risk – Friend or Foe?
Submitted by MIRUS Financial Partners on July 13th, 2018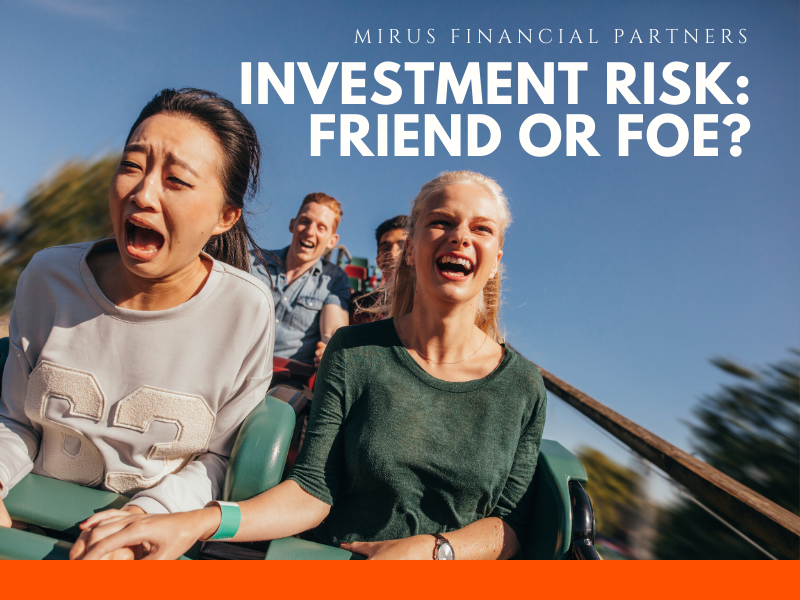 Few terms in personal finance get your attention as quickly as "risky." And few terms are used as frequently as "risk." However, what people mean when they say "risk" or "risky" can vary widely, especially when it comes to finance. When financial advisors talk about investment risk, they usually are referring to the historical price volatility of the asset or investment.
Advisors assign an aggressive or risky categorization to investments that have experienced big price swings. Because the investment, or the category of investment, has performed erratically in the past, it's assumed that there is a high risk of erratic behavior in the future. Assets that have moved slower or more predictably in the past are assumed to be on a steady course and are assigned lower risk categories.
However, it's important to remember that every investment carries some degree of risk, including the possible loss of principal. With that in mind, there is no guarantee that any investment strategy will be successful.
But risk assessments do assign a likelihood of future behavior, so it's smart to learn more about risk assessments, and decide which degree of risk that you choose to take.
You May Already Know the Basics of Risk
We all encounter different types of risk situations, in life and in business. You know if a company is involved in a financial or social scandal, their stock prices are likely to fall, at least short-term. If a company introduces a wildly popular new product, their sales spike, which usually means their stock prices spike too. If car sales are strong nationally, most car manufacturers stock prices will rise. Conversely, if the economy slows down, stock prices slow, or even decrease.
The Relationship Between Risk and Reward
In the financial world, there tends to be an inverse relationship between risk and potential returns. That means that if you're willing to take on more risk, you can invest in the kinds of funds that offer higher potential returns. But these same funds threaten to result in more substantial potential losses. This idea of "odds" is a familiar one. Risky funds are more likely to lose money, but they're also more likely to provide large rates of return. Conservative investments are more likely to provide a lower, but more reliable, rate of return, with less likelihood of losing your principal.
As you create, adapt, and revise your financial plan throughout your life, your goal is to figure out which degree of risk is appropriate for you and your financial goals.
What is Your Tolerance for Risk?
There are two ways to determine your tolerance for risk. The first is to assess your personal desire to take on financial risk. Are you comfortable investing funds in risky investments? Is your personality suited to assuming risk, or will it keep you up at night?

The second factor to consider is your financial ability to assume risk. After all, the more risk you assume, the more likely you are to lose some or all of your investment. High-risk, high-reward strategies are not well-suited to people who may need to access those funds in the next few years. Your financial risk tolerance is dependent on your age, your stage in life, how soon you'll need the money, your investment objectives and your short-term and long-term financial goals.
It's a good idea to work with a financial advisor to determine your tolerance for risk before investing in high-risk funds.
The Role Risk and Volatility in Long-Term Investments
Let's compare the performance of two funds.
One fund provides a steady return of 10 percent every year.
The second fund swings up and down. One year it provides a 5 percent return, and the next it provides a 15 percent return.
If you invest $10,000 into each of these funds, will your return from each differ after a 20-year investment? Some people are surprised to learn that the return on investment is $2,000 higher for the fund with a consistent return.
The differences between the two fund increase if you widen the annual variations. The point of this example is that risk and fluctuations, even if they are minor and short-term fluctuations, drag down long-term growth. Of course, this is a hypothetical example. A wide variety of factors will affect return on real-life funds and investments including taxes and transaction costs.
However, it's also important to note that, historically, the negative effect of short-term price fluctuations can reduced by holding investments over longer periods. This means that, in some cases, you can offset slow returns, or even negative returns, if you're able to hold on to the fund over a period of years. It also means that it's especially risky to invest in a volatile investment over short periods of time. Again, each fund and investment is different, and past performance is no guarantee of future results.
Other Types of Risk
MARKET RISK
This refers to the possibility that an investment will lose value because of a general decline in financial markets, due to one or more economic, political, or other factors.
INFLATION RISK
Sometimes known as purchasing power risk, this refers to the possibility that prices will rise in the economy as a whole, so your ability to purchase goods and services would decline. For instance, your investment might yield a 6 percent return, but if the inflation rate rises to double digits, the invested dollars that you got back would buy less than the same dollars today. Inflation risk is often overlooked by fixed income investors who shun the volatility of the stock market completely.
INTEREST RATE RISK
This relates to increases or decreases in prevailing interest rates and the resulting price fluctuation of an investment, particularly bonds. There is an inverse relationship between bond prices and interest rates. As interest rates rise, the price of bonds falls; as interest rates fall, bond prices tend to rise. If you need to sell your bond before it matures and your principal is returned, you run the risk of loss of principal if interest rates are higher than when you purchased the bond.
REINVESTMENT RATE RISK
This refers to the possibility that funds might have to be reinvested at a lower rate of return than that offered by the original investment. For example, a five-year, 3.75 percent bond might mature at a time when an equivalent new bond pays just 3 percent. Such differences can in turn affect the yield of a bond fund.
DEFAULT RISK (credit risk)
This refers to the risk that a bond issuer will not be able to pay its bondholders interest or repay principal.
LIQUIDITY RISK
This refers to how easily your investments can be converted to cash. Occasionally (and more precisely), the foregoing definition is modified to mean how easily your investments can be converted to cash without significant loss of principal.
POLITICAL RISK
This refers to the possibility that new legislation or changes in foreign governments will adversely affect companies you invest in or financial markets overseas.
CURRENCY RISK
(For those making international investments) This refers to the possibility that the fluctuating rates of exchange between U.S. and foreign currencies will negatively affect the value of your foreign investment, as measured in U.S. dollars.
Diversification May Reduce Risk
You can potentially help offset the risk of any one investment by spreading your money among several asset classes. Diversification strategies take advantage of the fact that forces in the markets do not normally influence all types or classes of investment assets at the same time or in the same way (though there are often short-term exceptions). Swings in overall portfolio return can potentially be moderated by diversifying your investments among assets that
are not highly correlated — i.e., assets whose values may behave very differently from one another. In a slowing economy, for example, stock prices might be going down or sideways, but if interest rates are falling at the same time, the price of bonds likely would rise. Diversification cannot guarantee a profit or ensure against a potential loss, but it can help you manage the level and types of risk you face.
In addition to diversifying among asset classes, you can diversify within an asset class. For example, the stocks of large, well-established companies may behave somewhat differently than stocks of small companies that are growing rapidly but that also may be more volatile. A bond investor can diversify among Treasury securities, riskier corporate securities, and municipal bonds, to name a few. Diversifying within an asset class helps reduce the impact on your portfolio of any one particular type of stock, bond, or mutual fund.
How Do You Assess Risk on Your Investment?
Your financial advisor can help you understand the risk levels of your investments. It's important to understand any investment product before making a decision. In addition to the information financial advisors can offer, you can look at the prospectus of a
mutual fund online. Business and financial publications and websites also review businesses, the U.S. economy, the international economy, industries, funds, and investments on a regular basis. You can request annual and other periodic financial reports for specific funds or investments. You can request information from the Securities and Exchange Commission (SEC). also can supply information. For mutual funds, third-party sources provide information such as ratings, financial analysis, and comparative performance relative to peers.
Note: Before investing in a mutual fund, carefully consider its investment objectives, risks, fees, and expenses, which can be found in the prospectus available from the fund; read it and consider it carefully before investing. These examples are hypothetical only, and do not represent the actual performance of any particular investments. Investments in securities do not offer a fixed rate of return. Principal, yield and/or share price will fluctuate with changes in market conditions and when sold or redeemed, you may receive more or less than originally invested.
*****
Mark A. Vergenes is President of MIRUS Financial Partners, 110 E. King St., Lancaster, PA; 717-509-4521 or mark@mirusfinancialpartners.com and is an Investment Advisor Representative offering securities and advisory services offered through Cetera Advisor Networks LLC., member FINRA/SIPC. Cetera is under separate ownership from any other named entity. Neither MIRUS Financial Partners nor Cetera Advisor Networks LLC. give tax or legal advice.