You are here

Interest Rates Are Rising. Now What?
Interest Rates Are Rising. Now What?
Submitted by MIRUS Financial Partners on July 17th, 2017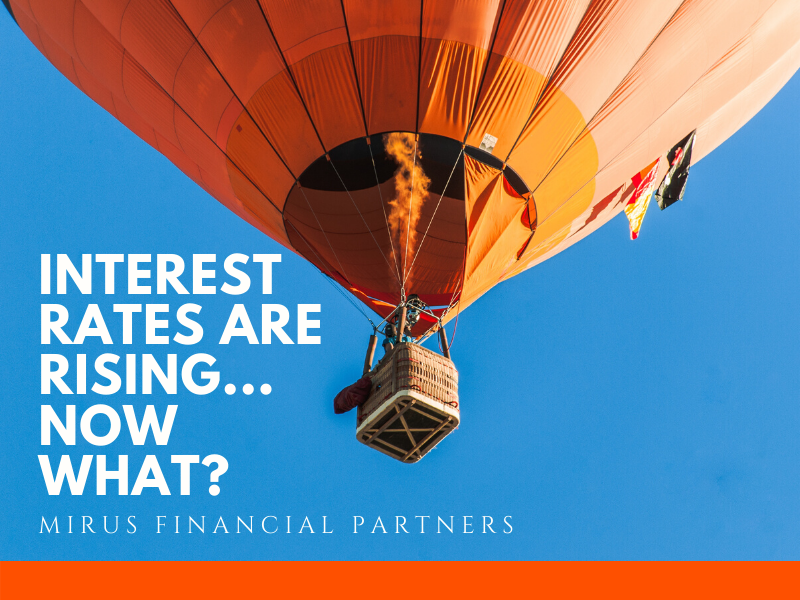 America has become accustomed to low interest rates. Rates have been low for the better part of a decade, but experts predict the low-interest rate era is coming to a close. Even conservative financial leaders like Federal Reserve Chairman Janet Yellen are linking an improved economic outlook with the potential for rate hikes.
The Federal Reserve has already raised rates twice since the November election. Yield on a 10-year Treasury bond crept up from a record low of 1.375% in July of '16 to something closer to 2.6% in March of this year.
While it's unlikely that we'll return to the high rates some of you remember from the 80's, when even a low-risk 6-month certificate of deposit paid 18% interest, rates will rise. And that presents all kinds of challenges and opportunities for your financial portfolio. That's why it's important for you to know how different types of investments react to interest rate increases.
Every portfolio's needs are different, but here are few things everyone should remember in a rising rate environment;
Short-term Bonds are Less Risky
Because they require only a brief commitment, short-duration bonds returns are less sensitive to changes in interest rates than longer dated bonds. You experience less volatility, because you are only committed to a bond for a short time.
Floating Rates Reduces Exposure
If you don't want to lock into a rate, you may be able to "float" up or down with interest rates with a "floating rate" fund. These funds are made up of bonds that make coupon payments which rise and fall with market interest rates such as the London Interbank Offered Rate (LIBOR). While they do carry credit risk, this floating rate feature typically means less sensitivity to changes in market interest rates.
Check out TIPS
Some investments offer "inflation-adjusted" returns. U.S. Treasury inflation-protected securities (called "TIPS") periodically adjust their principal for inflation with the intention of allowing an investor's returns to outpace inflation over time.
Stay Active
Actively managed, multi-sector funds with flexible mandates are more likely to be nimble enough to shift allocations to sectors that, unlike U.S. Treasuries, are less correlated to interest rates. They can also pursue opportunities to earn higher yields.
Consider Credit
When you work with investments with a yield better than the U.S. Treasury's, you effectively take on credit risk in place of interest rate risk. Consider credit such as investment grade or high yield corporate bonds.
Keep a Global Viewpoint
Keep other global markets in consideration. When U.S. rates rise, foreign markets may offer more attractive opportunities. Interest rate cycles can differ by country and region. Look at corporate and government debt opportunities in overseas markets to seek returns and diversify risk in rising rate environments.
These are just some of the ways you can adjust your portfolio to minimize your risk in a sometimes unpredictable market. When interest rates risk, investors may face increased risk. It's a smart time to take advantage of the expertise and capabilities of a seasoned portfolio manager who understands the implications of the changing financial environment.