You are here

Two Approaches to Investing: Value and Growth
Two Approaches to Investing: Value and Growth
Submitted by MIRUS Financial Partners on November 5th, 2020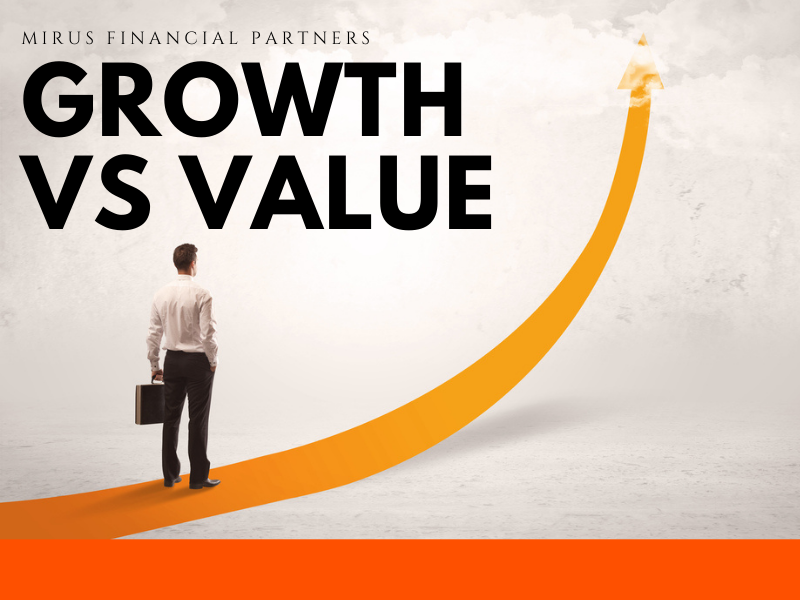 There are so many stocks available in the market. But how do you determine which ones to invest in? Most successful investors embrace objective criteria for buying and selling stocks and avoid emotional decision-making. These criteria tend to fall into one of two approaches: value investing and growth investing.
Value investors are bargain hunters. They tend to purchase stocks that are undervalued relative to the company's intrinsic worth. Growth investors are looking for quick profits. They look for companies that are growing quickly and offer the most significant potential for increasing share prices. Both approaches have their merits and their challenges.
Value Investing
Value investors want to purchase shares that are underpriced compared with their full worth. Exceptionally low valuations can occur for many reasons. When organizations wrestle with business challenges such as legal problems or management difficulties, they deal with short-term issues that might not affect the company's true value. Sometimes a company isn't expanding at a rate that raises stock prices, or it failed to make the news, stay in the limelight, or otherwise stay "hot."
Value investors buy on the expectation that share price will eventually rise to reflect what they believe is the stock's fair value. Value investors are especially interested in a stock's price-earnings— its share price divided by its earnings per share — and looks at the price-to-sales ratio, the dividend yield, the price-to-book ratio, and the rate of sales growth.
Value investors want to know:
• What would the business be worth if acquired?
• What would the company be worth if all its assets were sold?
• Does the company have hidden assets the market is ignoring?
• What are the intangible assets, such as a trusted brand, a strong management team, or dominance in the category?
Some value investors are also contrarian investors. Contrarians want to zig while others zag. They look for the overlooked, ignored, or misunderstood stocks. The challenge is to know whether low values are due to overlooked factors or are actually accurate stock price assessments. That's why value investors and contrarians spend a lot of time with corporate financial reports, hoping to find overlooked information that tells them more about a company's management, operations, products, and services.
Growth Investors
Growth-oriented investors want to ride a company's growth trajectory. This is an exciting strategy that can end in great profits or disappointment. Growth investors want to avoid overpaying for stock in anticipation of earnings that could eventually fall short of expectations.
These investors seek out rapidly expanding organizations, newer companies, and firms in emerging industries. These are the kinds of companies that offer the greatest potential for fast expansion and price appreciation. But they are also stocks that come with greater risk.
Growth investors study the increases in a stock's sales per share or earnings per share (EPS) and are less interested in P/E ratios. Some growth investors also consider a stock's valuation and look for what's called "Growth At a Reasonable Price" (GARP).
Growth investors want to know:
Is the industry growing?
What's the stock's recent growth performance?
Are sales and earnings per share accelerating from quarter to quarter and year to year?
Is the volume of trading in the stock rising or falling?
Will company announcements spark accelerated investor interest?
Which Investing Style is Best?
These two styles vie for popularity. Sometimes the popularity of growth stocks and value stocks fluctuates. Like so many other things in life, the popularity of investing styles trends up and down regularly. Many investors utilize both styles, so their portfolios are better positioned to grow regardless of the market environment.
Whether the growth or value or a combination approach appeals to you, substantial criteria are needed to the best chances of success. It's essential to analyze company fundamentals such as operations, expenses, and the industry's future to determine share value. Long-term investors tend to focus on these kinds of fundamental data.
No one style is best. Revisiting your investing goals, timelines, and risk tolerance is a good way to evaluate your preferred investment style. A qualified financial advisor can help you understand how to utilize each style, or a combination of styles, in ways that help you meet your long-term investment goals.