You are here

Personal Financial Planning Tips for Business Owners
Personal Financial Planning Tips for Business Owners
Submitted by MIRUS Financial Partners on May 14th, 2020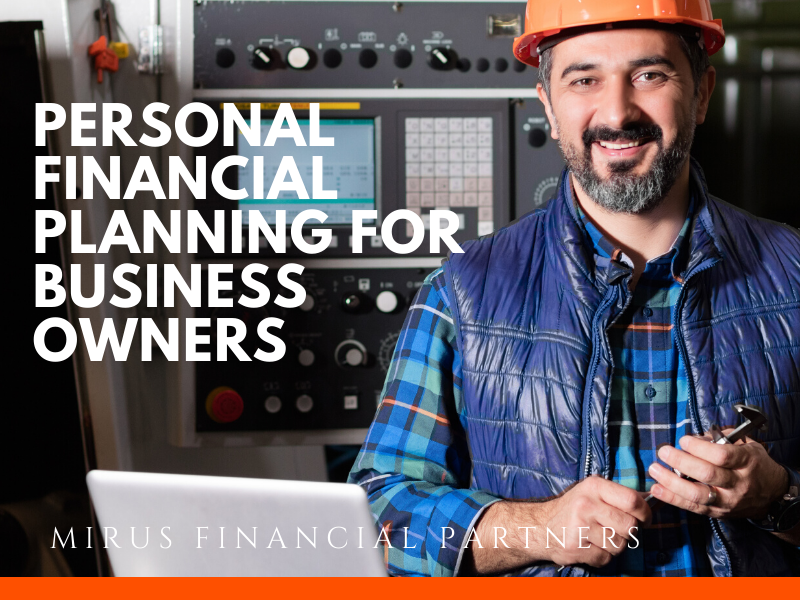 As any business owner can tell you, being the boss is both exhilarating and terrifying. While taking control of your own destiny can feel empowering, business owners are also aware of taking on significant risks.
Although the news sometimes portrays America as the land of mega-corporations, in reality, small businesses make up the bulk of the U.S. economy. According to the U.S. Census, there are 5.6 million employer firms in the United States, and less than one percent of them employ more than 500 people. Eighty-nine percent had fewer than 20 workers.
While most small business owners and entrepreneurs are comfortable focusing on building and growing their businesses, personal finances may be more difficult. While it's easy for successful business owners to put personal financial planning on the back burner, it could be a big mistake.
That's because some business owners think that having enough is the same as being secure. In fact, current financial success does not automatically translate into long-term financial security. For instance, some business owners use their private resources as initial capital, putting a significant strain on personal finances. In these cases, personal income suffers to meet the fiduciary demands of a new business.
Some entrepreneurs may find it tempting to skimp on short-term personal income to grow the business, it's essential to structure both sets of finances in ways that minimize risk. Drive and commitment are critical to creating a successful business, but business risks must be weighed against personal financial goals. How do business owners do it?
First, Separate Personal and Business Goals
Organizational leaders often invest a lot of time articulating their short and long-term business goals, but they seldom spend as much time on a personal financial plan. Some entrepreneurs consider business and personal goals as "one and the same." However, personal financial goals must include funds for children's education, caring for a spouse, retirement plans, estate planning, and even succession planning.
Many business owners have ignored retirement plans in favor of funding a business, but this may not be a smart long-term strategy. If an entrepreneur depends on the value of the company for retirement funds, the strategy could backfire. The value of any business changes over time, and outside influences like partners, market conditions, industry challenges, or even employee conduct could reduce the market value of your business when you're ready to sell.
Even if you plan to sell a business down the road, it's wise to create plans that don't depend on that income. Play it safe by creating long-term personal financial goals that work with or without the sale of the business.
Treat the Business as Income, not an Asset
Employees must create personal financial plans based on income from employers. Business owners should plan in the same way. It's smart to develop your personal financial goals based on reliable, repeatable income, not sporadic windfalls or potential growth.
It's sometimes hard to plan long-term when the nature of a business can change from month to month. However, having a long-term personal financial plan in place can help you evaluate many business decisions. For example, when you know that you must have $200K saved for college, you may not be as eager to invest those funds in an upgraded office building.
Finally, living within a budget stipend is a smart way to keep expenses under control. Review your personal financial plan each year. Adjust it to fit with any changes in your business income.
Beware of Using Personal Assets to Fund Business Expenses
Many small business owners have depended on personal savings, home equity loans, or even investments from friends and family to get started. Because more than 50 percent of all businesses fail in the first five years, this can be a risky strategy.
No matter how skilled you are in your field, or how sound your business plan is, starting a business is a gamble of sorts. And any time you gamble, you shouldn't use money that you can't afford to lose.
Instead of throwing all your personal savings and assets into your business, look for investors, partners, business loans, and barter partnerships to help you get started. If you must use your own money to start the business, make paybacks a priority. Divest as quickly as possible to protect your personal income and assets.
Take Advantage of Business Tax Exemptions
With the help of a skilled accountant, most business owners can restructure or reassign certain personal expenditures in ways that reduce their business taxes. For example, by becoming an S-Corp instead of an LLC, business owners may be able to deduct the cost of their healthcare. Company vehicles may be eligible for greater deductions compared with personally owned vehicles. The way business owners pay themselves and pay taxes to the government may affect taxation rates.
Each type of business has different conditions and requirements, but even startups may benefit from the advice of an experienced business account or financial advisor. Find a good advisor and lean on them to help you structure your business in ways that avoid unnecessary taxation.
Give Yourself a Benefits Package
Whether you're self-employed or a business owner with employees, it's easy to skimp on benefits. Providing benefits for yourself can be expensive and can feel like a luxury to business owners who are trying to keep profit margins up. That's because the average U.S. employee receives 31.7% of their total income in benefits. But higher price tags should not dissuade business owners from investing in disability insurance, life insurance, retirement plans, paid leave, and vacation for themselves.
Don't Skimp on Life Insurance
Business owners who take out a loan for their organization might be required to have a life insurance policy in place. But life insurance makes sense even if you don't take out loans. For example, if you do not have debt tied to your business, life insurance is a smart idea to protect your partners, your employees, your investors, and your family. If you are your family's sole source of income, or you have debt, life insurance is an affordable way to protect your family's long-term welfare.
Term-life can be a less expensive option, offering lower payments for higher payouts. Whole life may require higher premiums but usually allows the policyholder to borrow against the equity. Many options are available, and a financial advisor can help you evaluate which choice is right for you.
Schedule an Annual Review of Your Estate Plan and Business Succession Plan
The finances of a business owner can change dramatically in a year. That's why it's essential to take a look at your will and estate plan at least once a year. By maintaining and updating wills and family trusts, business owners can ensure that both personal and business assets will be well-managed.
It's also smart to create a business succession plan in case the owner retires, is ill, or passes on. A tight business succession plan not only allows for a smooth leadership transition, but it can also map out the shift in ways to minimize taxes.
Don't Procrastinate. Start Planning Now.
Lastly, if you don't have a personal financial plan in place, get it done now. It's easy to put off planning for a few months, or years, or decades. Unless you make time to get it done now, you may put it off until it's too late. We can help. Contact Mark A. Vergenes today to schedule an appointment to talk about your business and personal financial challenges. We can help you create a plan that fits your needs and income.
Want to read more about business finances and personal finances for business owners? Check out some of these articles from Mirus Financial Partners.
What the SECURE Act Means for Retirement Plans
Worried About a Big Tax Hit? Tax-Loss Harvesting May Help
How Much Life Insurance do You Need?
Self-Employed? Don't Forget to Give Yourself Benefits Packages
5 Steps to Achieving Long-Term Financial Goals
Famous Wills and What Went Wrong