You are here

Furloughed? Laid off? Uncertain? Financial Strategies for Employees in an Uncertain job Market
Furloughed? Laid off? Uncertain? Financial Strategies for Employees in an Uncertain job Market
Submitted by MIRUS Financial Partners on July 30th, 2020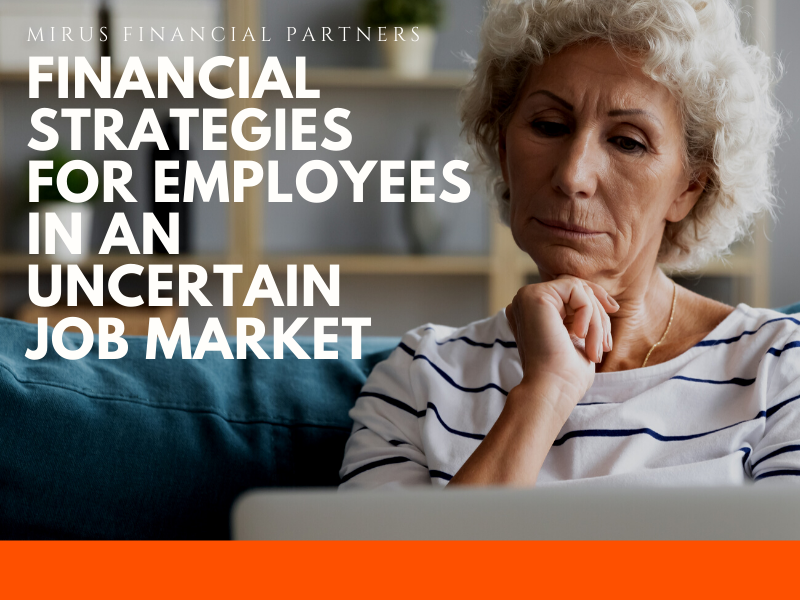 This article was written in July 2020. As of this writing, the timing and scope of an economic recovery and the effect on the long-term job market is unclear. Employers are looking for new ways to grow, survive, or shut down in this ever-changing environment. Unfortunately, no matter which industry you're in, there's a good chance that some jobs and companies won't survive the economic impact of the pandemic.
As businesses and employers continue to weigh their options, this may be a good time for employees to do the same. Whether your job is secure, uncertain, or eliminated, this may be a good time for you to rethink your job or even your career path.
When the future is uncertain, evaluating your circumstances and your options is a healthy way to regain control of your situation. Here are some items to consider as you think about your professional path forward.
Evaluate Your Finances
No matter what your employment status currently is, your financial situation should factor into any decisions. In addition to taking inventory of your savings and investments, this is a good time to outline a budget that includes all your expenses, big and small. You may find that a lot of money is going towards things that aren't important to you, like a vacation home or memberships, and you may be able to reduce spending without impacting the most important parts of your life.
Conversely, you may find that you need to continue to earn at the same or higher levels to pay for necessary expenses, such as putting a child through college or paying off a home.
Once you evaluate how much it will take to live your life comfortably and save for emergencies, you'll know exactly how much you need to earn to live your best life, long-term.
If you've been laid off, make sure you evaluate all payment deferral options from your creditors. Even if you don't need to take advantage of deferrals to get by, it's smart to activate them while they last. Contact your creditors to determine how long their deferrals programs may last and plan accordingly.
While FPUC has helped buffer the financial blow for many unemployed Americans, there's no guarantee it will be extended, so create a budget that doesn't rely on that income, and try not to increase your debt while you're laid off.
Reconsider Your Career Options
Many Americans will need to look for jobs in different industries. While some experience is tied to a specific job, many job skills and people skills can be transferred to other jobs and even other fields.
For example, people in the tourism industry usually have good customer service skills. Property managers have expertise in time management that can be used in a variety of fields. HR competency is easy to apply to other industries, as are the abilities used in administrative positions, IT, accounting, and salesmanship.
This is also a great time to improve your work credentials, get online certifications, take online courses, read books, volunteer to gain experience in a new field, gain insights into industries you may want to work in, and start networking.
In any economic environment, as America's workforce ages, more and more people are shifting into new areas or changing careers entirely. These "second act" careers offer many workers a chance to find new, challenging, and rewarding ways to earn a living.
Many people opt for self-employment or a side job to pad finances as they work through a professional transformation. Whether you're skilled at taxes, lawn care, dog walking, driving people around, babysitting, tutoring, or digital marketing, there's a good chance you can create some revenue each month based on a task you already know how to do.
Is Early Retirement an Option?
If you're offered a buyout in exchange for early retirement, there's a long list of financial considerations. What's the severance package? How does it affect your pension? Does the offer include health insurance? What other benefits are available? Can you afford to retire early? What happens if you say no?

For some people, early retirement is a no-brainer. For others, it may cause real financial hardship. Read more about evaluating an early retirement offer here.
Don't Forget About Your Retirement Plan
When you leave a job, your retirement plan doesn't have to stay with your employer. Moving funds into other retirement savings vehicles is called a rollover. You may move from one 401(k) to another, or you may choose to move your funds into a different type of investment vehicle.
You can rollover if you leave a job, if you want to switch investments, or you've received death benefits from your spouse's retirement plan. Some distributions can't be rolled over, including the required minimum distributions (to be taken after you reach age 72 or, in some cases, after you retire). There are restrictions on certain annuity or installment payments, hardship withdrawals, and corrective distributions of excess contributions and deferrals. If you're not sure if these apply to you, an experienced financial advisor can help.
Which Rollover is Right for You?
Retirement funds can be an indirect (60-day) rollover or a direct rollover (or trustee-to-trustee transfer). Indirect rollovers provide a direct distribution from your retirement plan. Once the funds are in hand, you are required to place them in a new retirement plan account or IRA within a 60-day period. When executed properly, there is no income tax on rollovers. However, if you fail to complete the rollover or miss the 60-day deadline, you may be subject to a 10 percent early distribution penalty. If you're older than 59 ½, exceptions apply.
Additionally, if you receive a distribution from an employer retirement plan, your employer must withhold 20 percent for taxes. If you provide that 20 percent from other sources, to ensure 100 percent of your investments go into the new retirement savings vehicle, that amount will be deducted from your taxable income.
Direct Rollovers
These occur between the trustee or custodian of your old retirement plan and the trustee or custodian of your new plan or IRA. Because you never receive the funds or have control of them, a direct transfer is not taxed in the same way as a distribution or indirect rollover. Direct rollover takes care of deadlines for you, and you are exempt from 20 percent withholding considerations.
Whenever you are eligible for a distribution from your employer's retirement savings plan, they are required to offer the option of making a direct rollover to another employer retirement savings plan or IRA. Because the money is moved directly from one retirement savings vehicle to another without issues of withholdings or taxation, a trustee-to-trustee transfer can be the most efficient way to move retirement funds.
IRAs Provide Flexibility
Retirement funds can be moved into IRAs. This option still provides a wide variety of investment choices that offer more flexible withdrawal options.
Each financial situation is different, but some people pay less for management fees and administration fees when they roll over into an IRA. IRAs also offer more payout options. They may make sense for estate plans and could reduce taxes to heirs.
Again, each person and situation is different, so talk to a financial advisor before moving your funds to ensure you get the maximum tax benefits.
Rollovers to Your New Employer's Plan
Moving funds into a new employer's plan is smart when the new plan is a good one with lots of investment options and low fees. If you plan to continue to work after age 72, keeping your funds in a 401(k) also allows you to delay taking your required minimum distribution.
Importantly, if your new employer offers a SEP IRA or SIMPLE IRA, you may be required to observe a waiting period before contributing and consider other conditions before moving your 401(k) funds into their IRA-based retirement savings programs.
Finally, rollovers into your new employer's sponsored retirement savings plans may offer better creditor protection. In general, federal law protects IRA assets up to $1,362,800 (scheduled to increase on April 1, 2022)—plus any amount rolled over from a qualified employer plan or 403(b) plan—if bankruptcy is declared. Assets in a qualified employer plan or 403(b) plan generally receive unlimited protection from creditors under federal law, regardless of whether bankruptcy is declared. SEP and SIMPLE IRAs are not included in or subject to this limit and are fully protected under federal law if you declare bankruptcy.
Should You Keep Your 401(k) Plan Unchanged?
Some employers allow past employees to keep funds in their 401(k)s even after the employee leaves. This may be a good choice if you're not sure where you'll be employed next, if your next employer doesn't offer a 401(k), if your next employer offers a plan with fewer advantages, or if you plan to be self-employed.
Cashing out Your 401(k)
In these uncertain times, cashing out is tempting, but there are penalties involved. Your withdrawal will be taxed at your current tax rate. Unless you're 55 years old and planning to stop working, you may have to pay an additional 10 percent penalty. Working people can withdraw without that 10 percent penalty after reaching age 59 ½.
Want to learn more about how to maximize the benefits of a retirement account? Check out these articles:
New Job? What Happens to Your Retirement Account?
The SECURE Act and What it Means for Your Retirement
Understanding Minimum Distribution Requirements
New Job? Retiring? Don't Forget to Rollover!
Long-Term Retirement Strategies