You are here

New Job? Retiring? Don't Forget to Rollover!
New Job? Retiring? Don't Forget to Rollover!
Submitted by MIRUS Financial Partners on June 29th, 2018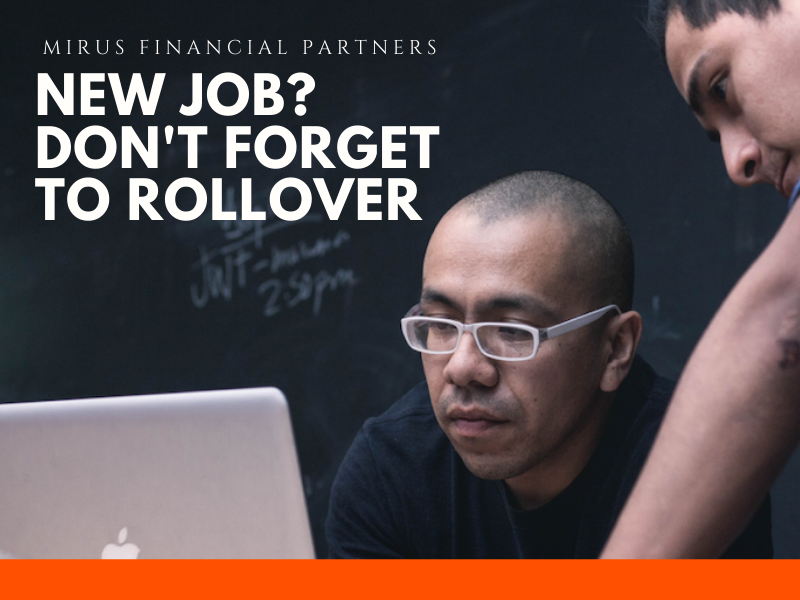 Moving to a new phase of your life is exciting. Whether you've decided to retire or switch employers, you'll have to make a lot of decisions. With the commotion caused by the transition and changes, many people forget about rolling over their retirement funds.
While it's put aside your retirement goals during a job change, it's smart to make decisions on your retirement fund quickly. After all, you may be missing out on benefits that can make a difference in how you manage your money, now and after retirement.
While it's tempting to leave your retirement plan with your old employer, easier is not always better. After all, for many people, rolling over a 401(k) plan into an IRA can save money on fees and provide a greater variety of investments. That could translate into a stronger retirement portfolio.
When you leave an employer, you can handle your retirement plan in four ways. Each of these strategies comes with its own set of benefits and special considerations. I've outlined a quick overview below.
1. Direct Rollover to an IRA
What is it?
Your former employer transfers your vested retirement fund to the IRA fund of your choice. A financial advisor can help you make smart decisions on how and where to transfer your retirement fund and make recommendations on how to allocate your investments within the IRA.
Primary Benefits
Flexibility: Most IRAs offer more types of investments than a typical 401(k) plan. You not only have access to investment in mutual funds but also gain access to individual stocks and exchange-traded funds. More investment options may allow you to create more effective long-term retirement strategies.
Control: Unlike many employer-sponsored retirement plans, it's easy to withdraw funds from IRAs if needed. Depending on your situation, tax penalties may apply.
2. Indirect Rollover
What is it?
Your former employer issues you a check for the amount of your vested retirement savings. You must then deposit the amount another non-taxed retirement fund, like an IRA, with 60-days, or the distribution will be taxed.
Primary Benefit
Flexibility: You may use some or all of the money for purposes other than retirement savings. You may spend it on personal items or use it to finance things like investments in mutual funds, additional life insurance, long-term care insurance, or annuities. You have full use of the funds for the entire 60-day period and have the choice of whether to redeposit into the IRA or not. However, if you don't deposit the amount of your funds into an IRA or another non-taxed retirement fund within 60 days, the entire amount is subject to tax.
3. Direct Rollover to a new Employer's Plan
What is it?
Your former employer transfers your vested retirement savings into your new employer's retirement funds. You move your retirement fund directly from one employer to another.
Primary Benefit
Consolidation: You keep all your retirement funds in one location.
4. Do nothing
What is it?
Many employers allow you to keep your retirement fund in place, even after you leave the company. You leave your retirement fund "as is."
Primary Benefit
Easy: You literally do nothing, and you allow your former employer to continue to manage your retirement fund.
Not Sure What to do Next?
Financial advisors (like me) are able to help you think through your options, and make sure your choices fit in with your long-term financial goals and strategies. Shoot me an email at mark@mirusfinancialpartners.com or call me at 717-509-4521 and I'll be happy to review your plan with you and make recommendations.
*****
Mark A. Vergenes is President of MIRUS Financial Partners, 110 E. King St., Lancaster, PA; 717-509-4521 or mark@mirusfinancialpartners.com and is an Investment Advisor Representative offering securities and advisory services offered through Cetera Advisor Networks LLC., member FINRA/SIPC. Cetera is under separate ownership from any other named entity. Neither MIRUS Financial Partners nor Cetera Advisor Networks LLC. give tax or legal advice.