You are here

Financial Tasks for Divorcing Couples
Financial Tasks for Divorcing Couples
Submitted by MIRUS Financial Partners on October 22nd, 2019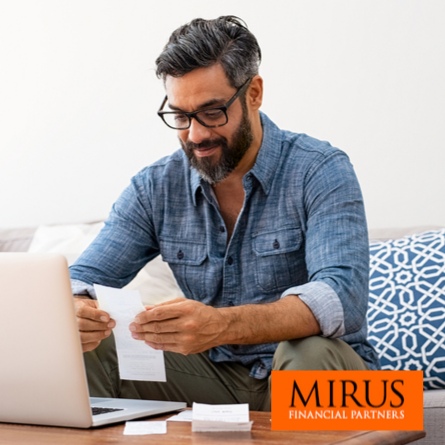 When people face a divorce, they are sometimes overwhelmed. The emotional aspects of a split can be challenging. It's easy to lose track of some of the economic implications. When you decide to dissolve your marriage, you'll also need to end a complex monetary partnership. It will require a fair amount of paperwork to evaluate and amend your fiscal universe. To help you get started on understanding and protecting your assets during this transitional period, Mirus Financial Partners has put together a checklist to help you get through your divorce and develop a new personal finance plan when the proceedings are completed.
Inventory Income and Assets
The first step in dividing possessions and valuables is understanding what exists and the value of all your combined wealth. To prepare for a divorce, you should put together a file with tax returns for the past two years (or more) and proof of income form, such as a 1099, W-2, or K-1. You'll also want to gather statements that help you inventory assets and debt, including bank account statements, investments, mutual funds, annuities, and college savings.
Gather up your car and recreational vehicle titles, deeds, mortgage statements, and real estate tax bills. Include assessments on jewelry, artwork, and other valuables. And don't forget to include the value of major purchases like furniture, computers, and electronics.
Don't forget about retirement plan and summary plan statements including 401(k0s, 403(b)s, 457 plans, profit sharing, IRAs, pension plans, and deferred compensation plans.
You'll also need to assess and adjust insurance policies including homeowners, renters, health insurance, health accounts, vehicle insurance, and life insurance.
Finally, inventory personal agreements including any marriage agreements, such as prenuptials, employment contracts, and estate planning documents such as wills, trust, power of attorney, and medical directives or living wills.
When you have these types of documents in place, it will be easier to evaluate assets and debts and determine how these financial elements should be handled.
Protect Your Credit and Your Cash Flow
If your separation is imminent and you've decided to initiate proceedings, it's time to make some quick changes to prepare for the changes to come. Now is the time to close or freeze joint accounts or credit cards. Monitor your credit to ensure no major purchases or debts are left unnoticed. Change your security information, such as usernames and passwords, on bank accounts and credit cards.
Bring in specialists when needed. A lawyer can help you create alimony and custody agreements. If you or your spouse own a business, you may need a business valuation expert. A forensic accountant can help you ensure that no assets or accounts are concealed.
Changing Names? Take Care of the Paperwork After the Divorce is Final
Once you've signed legal papers and have a qualified domestic relations order (QDRO) in hand, you still have a long list of tasks to complete. They include:
Changing names on bank accounts, brokerage accounts, IRAs, and qualified places such as a 401(k)
Changing the beneficiaries on such accounts, when applicable
Changing your name on your driver's license and social security card
Changing names on your vehicle, health, and homeowners/renters insurance
Changing names and contacts on your employer records and professional licenses
Changing information on credit cards
Updating vehicle titles and property deeds
Updating information on utilities
Update Your Beneficiary Designations and Estate Plans
A divorce or QDRO will not negate the validity of an heir. You must request to change your recipients, or they will remain in place on documents such as wills, retirement funds, medical directives, revocable trusts, living wills, and even on power of attorney.
Update Your Financial Plans
Once your marriage is dissolved, it's time to take a fresh look at your financial plans and savings strategies. It's possible that the split dramatically changed your financial outlook as well as your personal financial goals. This is a good time to meet with a financial advisor to help you reboot your financial and retirement plan and to work out smart goals that work with your new reality.
For more information on divorce and finances, check out these Mirus blogs:
What Happens to Retirement Assets in a Divorce?
* * * * *
MIRUS Financial Partners, Mark A. Vergenes, President, 110 East King Street Lancaster, PA 17602. mark@mirusfinancialpartners.com www.mirusfinancialpartners.com
Investment Advisor Representative offering Securities and Advisory Services through Cetera Advisor Networks LLC, member FINRA/SIPC. Cetera is under separate ownership from any other named entity. MIRUS Financial Partners and Cetera Advisor Networks LLC are not affiliated.