You are here

ESG: How Environmental, Social, and Governance Issues are Changing Investing
ESG: How Environmental, Social, and Governance Issues are Changing Investing
Submitted by MIRUS Financial Partners on August 10th, 2020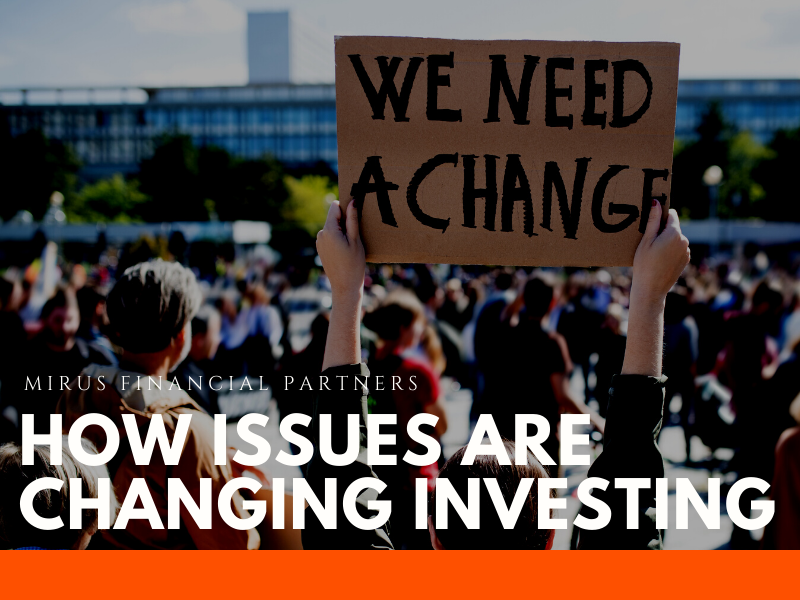 2020 will be remembered as the year of COVID-19 and the year Black Lives Matter went mainstream. Both landmarks have caused many investors to revisit or reconsider the practices and values of the companies in their investment portfolios. Companies that take a values-based approach to business, such as Ben & Jerry's, have benefited from being upfront about their beliefs while companies who ignored the social unrest around them, or were insensitive or uncaring about the impact of a pandemic on their workers, have come under fire.
While it may seem that 2020 made social issues more pressing, investing in companies, organizations, and brands that share your values isn't a new phenomenon. This trend has been growing for over a decade. In fact, for many years the selection of funds focused on environmental, social, and governance (ESG) has exploded.
According to Ben Hernandez for ETFTrends.com,
"It's been a decade of strong performance for environmental, social, and governance (ESG) investing when compared to the broader market. Data provider Morningstar research noted that European-based ESG funds have outperformed conventional funds in various timeframes—on, three, five, and 10 years… Given the latest data, ESG is making a name for itself as a performer as opposed to a niche-based investing fad. During the height of the coronavirus sell-offs, ESG was able to mute the effects of a sharp market downturn."
The social value of ESG funds, along with positive returns from some funds, have combined to increase the popularity of this type of investment. People continue to be very interested in financial and investment products that take environmental, social, and governance (ESG) factors into account. In response, the financial industry has created even more products that focus on social values, such as racial and gender diversity. In the past, the bulk of ESG investing has focused on environmental and green issues. For example, investors who wanted a more energy-efficient future could exclude fossil fuel stocks from their portfolios. ESG investors could also avoid investing in casinos, alcohol, tobacco, and overt political interests.
Today, more and more investors want to shift funds away from companies that do not support their social values. That's why funds are becoming more specialized to meet the needs of a wide range of social issues and interests.
Investing Using Screens and Positive Screens
Investing in companies that are aligned with your social, political, or environmental concerns may help you further your economic interests and ethical outlook. When choosing funds, the investor often selects between funds that screen or funds that use positive screens.
Positive screening selects investments in "best in class" industries, stocks, or projects when compared to their peers. Some ESG investors look for companies that are already performing well against predetermined criteria, while others look for companies that are actively improving their ESG scores.
Negative screening, often referred to only as "screening," excludes particular stocks or sectors, such as tobacco, fossil fuels, or defense, with low scores on ESG criteria. Similar to divestment, screening is an easy way to eliminate problematic categories of investments.
Community Investing
Community investing is a way of providing capital to communities, projects, and non-profits that may have difficulty getting traditional financing. This type of investing usually focuses on social improvements, such as gaining access to affordable housing, finding jobs, and receiving health care. Community investing not only assist individuals, but it also provides funding to small businesses that may operate in geographic areas that mainstream financial institutions deem too risky.
Impact Investing
As the name implies, impact investing focuses on performance: both social benefit and investment returns. Impact investing is a way to further social good in ways that maximize resources. These investments are often made directly in an individual company or organization and may involve direct mentoring of its leaders. As a result, such unique investments may be more similar to venture capital and private equity (where the concept of impact investing originated). They may not be highly correlated with traditional assets such as stocks or bonds.
How to Choose Your ESG Investments
ESG investors must balance the desire to concentrate on a specific issue with keeping a diverse portfolio. In any type of investing, sticking to narrow categories or interests poses financial risks. Diversification spreads the risks out but can weaken the impact of your investments.
While diversification and asset allocation can't guarantee a profit or eliminate the possibility of loss, they can help you manage the amount of risk you may face from a single source.
An advisor who is experienced with ESGs can help you find a mix of investments that meets your environmental, social, and governance requirements to create a diverse portfolio to reduce exposure to risk.
Want to learn more about investing based on values? Check out these articles by Mirus Financial Partners:
Socially-Responsible Investments