You are here

Investing in Renewable Energy
Investing in Renewable Energy
Submitted by MIRUS Financial Partners on June 10th, 2019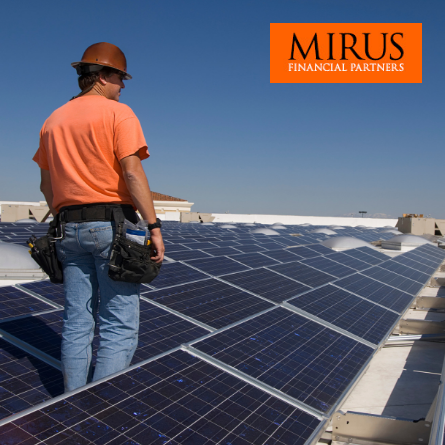 When it comes environmentally responsible investing and climate investing, "renewables" is a term you'll hear over and over. While some people assume this term refers to wind or solar energy, renewable energy actually describes a wide range of investment areas including transportation, geothermal, battery storage, hydropower from dams, and even tidal power.
As recently as a decade ago, the U.S.'s renewable energy resources were limited, with the notable exception of hydropower. However, accelerated concern over climate change and burgeoning global populations have motivated businesses and governments to develop new kinds of renewable energy to serve populations around the country and the world. While initial waves of investment were limited to wind and solar, a wide variety of renewable energy is now changing the way power will be delivered in the coming years.
Changes in the Energy Grid
The energy grid is shifting dramatically. America's energy grid used to be limited to a few thousand large, centralized power plants running on fossil fuels, and a handful of nuclear power plants. However, in the last few years, over two million smaller plants have been built to provide renewable energy. In fact, renewables contributed 17.6% of electricity generation in the United States in 2018. Advances are also being made in the availability and practicality of geothermal energy, generating energy from the tides, hydrogen fuel, battery storage, and reinventing the way hydropower generates and stores energy.
Changes in Transportation
Within transportation, manufacturers of automobiles, buses, airlines, and trains are making real strides in identifying good alternatives to fossil fuels. Fuel cells vehicles (FCVs) utilize hydrogen to produce electricity through a chemical process, without combustion. This technology has been tested extensively on buses and mass transit. Hyundai, Toyota, and Honda offer commercially available FCVs. And of course, many autos are now offering electric or hybrid vehicles that harness the power of rechargeable batteries.
Trains are also experimenting with hydrogen power, batteries, and even solar power. In aviation, research in Sustainable Aviation Fuel (SAV) is still emerging but has already produced successful trials on fuel using oil crops such as jatropha, camelina, and algae.
Investing in Equity ETFs
For people interested in investing in renewable energy, exchange-traded funds (ETFs) may be a good place to start. These funds provide diversified investing products within a given sector. They also offer investors the chance to focus on a specific type of renewable energy such as wind or solar. Like mutual funds, ETFs spread the risk and reward over a family of investments, instead of focusing the investment on a single business or corporation.
An experienced financial advisor can help you review the components an ETF to help you assess risk, and to ensure you are investing in the type of renewable energy that makes sense for your portfolio.
Investing in Renewable Energy Bonds
There is a growing number of renewable energy bonds, or "clean bonds" to choose from. Some bonds are issued by business or corporations companies looking to complete alternative energy projects through city, state, or even national governments. Other bonds are issued by renewable energy firms looking to raise capital to finance projects cost-effectively.
Government Policy Influences the Value of Your Investment
Governments around the world have increasingly embraced the need for practical, affordable sources of renewable energy. More and more regulations restrict emissions and pollution. At the same time, many governments are subsidizing or funding research and development that moves renewable energy forward. More and more state-run universities are researching renewable energy, and even offering degrees in renewable energy and green chemistry.
Government subsidies have played a significant role in jump-starting the renewable energy industry. Their substantial influence has impacted the development of many kinds of renewable energy and has resulted in a thriving industry that can now offer energy sources that are competitive or even less expensive than fossil fuels.
It is predicted that governments around the world will continue to subsidize and support the development of infrastructure needed to make alternative energy widely accessible and affordable. However, government subsidies or support can shift quickly based on several factors, including changes in leadership, economic factors, or even public opinion. It's important to remember that these unpredictable changes can significantly affect your investments, sometimes in negative ways.
Exchange-traded funds and mutual funds are sold only by prospectus. Please consider the investment objectives, risks, charges and expenses carefully before investing. The prospectus contains this and other important information about the investment company. Be sure to read prospectus carefully before deciding to invest.
***
MIRUS Financial Partners, Mark A. Vergenes, President, 110 East King Street, Lancaster, PA 17602. mark@mirusfinancialpartners.com www.mirusfinancialpartners.com
Investment Advisor Representative offering Securities and Advisory Services through Cetera Advisor Networks LLC, member FINRA/SIPC. Cetera is under separate ownership from any other named entity. MIRUS Financial Partners and Cetera Advisor Networks LLC are not affiliated.