You are here

3 Reasons to Consider Renewable Energy Investments
3 Reasons to Consider Renewable Energy Investments
Submitted by MIRUS Financial Partners on March 21st, 2021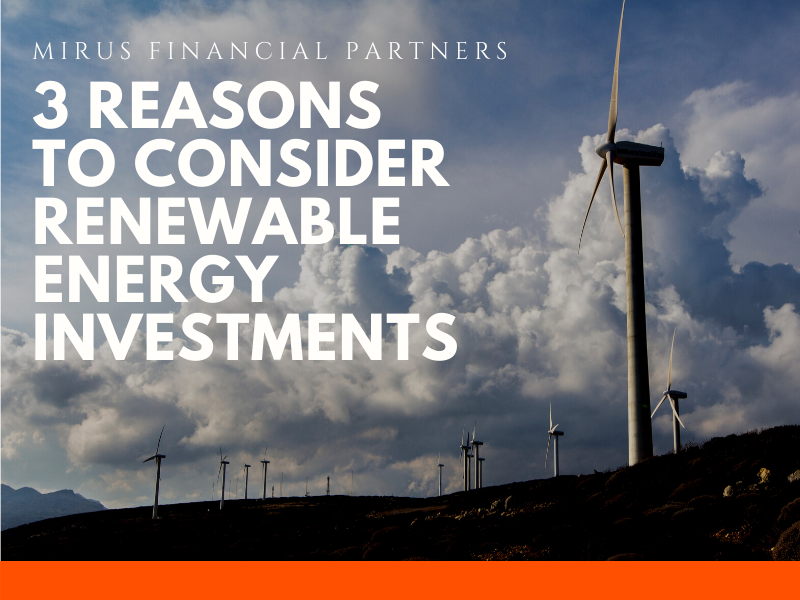 As the world slowly recovers from the economic blows dealt by the COVID-19 pandemic, Wall Street will also recover. While many stock values dropped at the onset of the pandemic, most are on the road to recovery. As a result, many investors are buying, and several industries are poised to prosper in the coming months.
Renewable energy continues to be an attractive investment industry. It has grown considerably and is now surpassing many older energy sources, including coal. The U.S. Energy Information Administration reported:
Total renewable energy consumption in the United States grew for the fourth year in a row to a record-high 11.5 quadrillion Btu in 2019. Since 2015, the growth in U.S. renewable energy is almost entirely attributable to the use of wind and solar in the electric power sector. In 2019, electricity generation from wind surpassed hydro for the first time and is now the most-used source of renewable energy for electricity generation in the United States on an annual basis.
Why are renewable energy stocks worth evaluating in 2021?
1. Renewable Energy is Outperforming Fossil Fuel
According to a study by the International Energy Agency, renewable energy is set to expand. In fact, the value of renewable energy has withstood the impact of the pandemic. On April 27, 2020, The New York Times reported:
Renewable energy sources are set to account for nearly 21 percent of the electricity the United States uses for the first time this year, up from about 18 percent last year and 10 percent in 2010, according to one forecast published last week.
2. Renewable Energy Investments Diversify Your Portfolio
We've all been warned not to put all our eggs in one basket, and that old saying holds for investors. Even when renewable energy stocks are shaping up to be robust investment options, it's wise to invest in different industries. A well-balanced investment portfolio spreads out risk and protects against significant losses if one segment of the economy suffers disproportionately.
3. Government Policies May Favor Renewable Energy
Renewable energy stocks a new category. And in any new category, government regulations and policies can impact the volatility of these stocks. While the current administration has expressed strong support for renewable energy, any type of change is likely to benefit some companies or segments of the industry while hindering others.
Let Mirus Financial Partners Help You Evaluate Renewable Energy Investments
It's essential to identify well-researched offerings with a solid foundation and a likelihood to grow with any investment. Mirus Financial Partners is here to help investors like you find growth opportunities in renewable energy that work with your goals, risk tolerance, and investment strategy. Contact us today to find out if renewable energy makes sense for your portfolio.
Want to learn more about renewable energy investments? Check out these articles by Mirus Financial Partners.
Green Energy as an Investment Strategy