You are here

What to Ask When Choosing Health Coverage
What to Ask When Choosing Health Coverage
Submitted by MIRUS Financial Partners on February 28th, 2016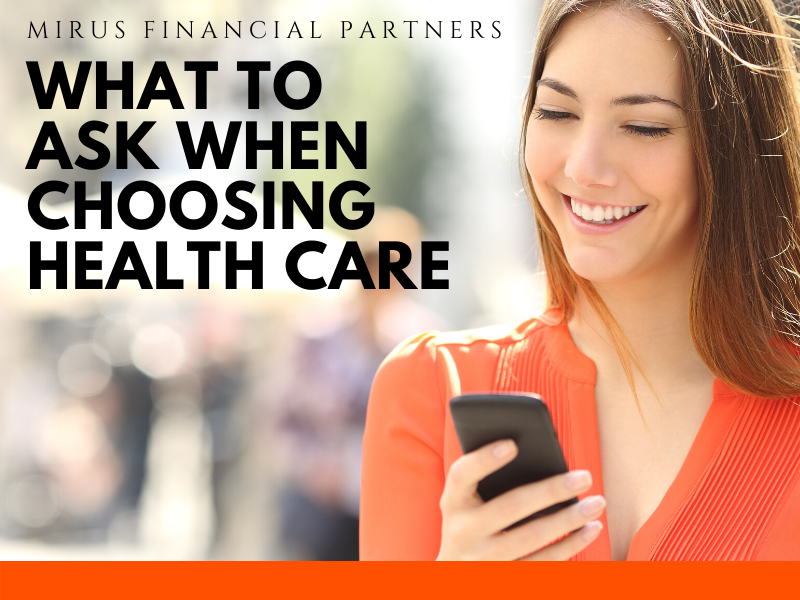 Whether deciding on Medicare coverage, a plan under the Affordable Care Act, or even which family member's health care plan to join, there are key questions to ask in choosing health care coverage.
First, it's important to know the basics, including costs for various items. Here are some of the biggies:
Premium: Amount paid regularly throughout the year for coverage

Deductible: The amount of costs patients cover themselves before coverage kicks in

Copay/coinsurance: The patient's share of costs on an individual medical bill
Some other questions you might want to consider:
Which doctors or medical providers can I use under this policy? Will I be able to use my current doctor?

Are prescription drugs covered? What about vision and dental care? How about hearing coverage?

Will conditions that are important to me (physical therapy, psychiatric care, nursing home care, for example) be covered?

What are the specific items and services the policy covers? What specifically won't it cover?

Are there any exceptions or limits on the policy paying for all of my medical care?

Do I need to get prior approval or fulfill some other requirement before I can receive coverage for a certain procedure?

Will I be covered if I travel to a different state or country?

Is this considered a grandfathered plan that limits coverage for pre-existing conditions?

How can I renew or cancel the policy?

What is the process for handling disputes over claims? How can I challenge a denial of coverage for a certain service?
Check out the national nonprofit Transamerica Center for Health Studies® online for more health care resources.