You are here

Watch Out for These Common Financial Scams
Watch Out for These Common Financial Scams
Submitted by MIRUS Financial Partners on January 31st, 2016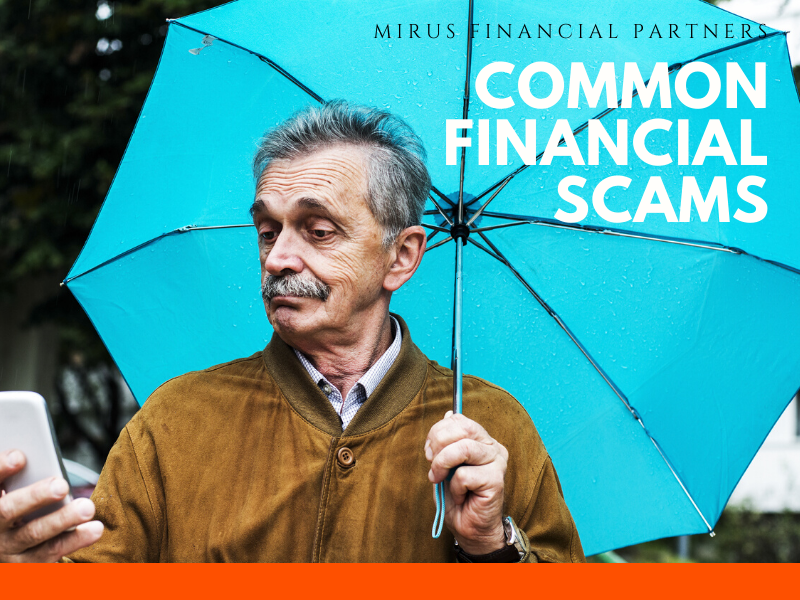 You probably know someone who's been scammed out of money, a check, some cash, gift cards or even significant amounts of money. Many criminals are skilled at tricking smart folks into handing over money.
MIRUS Financial Partners encourages all clients to pay attention to red flags, and if anything feels strange, out of order at all suspicious, time to investigate more before sharing any kind of credit information, or even the most basic personal information.
Charity Fraud
Asking people for money on behalf of a bogus charity is a common scam. Criminals may contact you disguised as an established charity, or they may contact you on behalf of a charity they invented. Either way, be very cautious of any type of phone solicitation or door-to-door requests.
Even when the solicitation is technically legal, some solicitations are done by paid professionals who may keep up to 90% of the gift for themselves.
If you come across a charity that you would like to contribute to, ask for contact information such as a mailing address, a corporate phone number or a website. Then terminate the conversation and investigate the charity on your own.
Mirus Financial Partners can also help clients evaluate a charity by accessing industry watchdog groups that scoring a charity's financial behavior, and by revealing how much of your donation goes to the cause, and how much goes to sales people and staff.
Technology Scam
Have you ever seen a message on your computer claiming you've contacted a virus? Perhaps you have received a call from a seemingly reputable company like Google or Microsoft, or even your own bank, asking you to allow the tech support team to access your computer?
Perhaps you've received an email that looks like it's from your bank, asking you to log in to verify and protect your bank information; once this type of scammer convinces a person to share log-ins or access information, the scammer can load programs onto your computer that tracks keystroke, steals passwords, allowing them to harvest personal information.
Never give anyone your personal information password information over the phone, unless you initiate the call. If you receive a phone call asking for this type of information, don't share any information. Hang up and contact the customer service numbers you have on file.
If you receive an email from your bank or credit cards asking you to give them any type of password information, call your local branch or the service number on the back of your credit card and ask them if the request is valid.
If you see pop-up messages on your computer warning about viruses, or asking you to buy a program that will remove viruses, have a computer expert look at your computer. The pop-up message itself may be a virus. An expert can help you remove the virus and install programs that will make it harder for messages like this in the future.
IRS Fraud
This scam starts with a call purporting to be from the Internal Revenue Service, warning there's a warrant out for nonpayment of taxes. The only way to avoid arrest is to pay a fine with your credit card, or by obtaining a gift card in the amount of fine and giving crooks the card number.
To avoid this kind of fraud, it's important to remember that the IRS notifies people by mail, and never uses a phone call as a first notification. The IRS does not request credit card payment, and never asks for payment in gift cards.
If you're suspicious, tell the caller you are suspicious and hang up. If you're worried that the call may have been legitimate, call the listed number for the IRS and explain your concerns.
Imposters Scam
Scammers are good at pretending to be relatives in trouble. Often callers claim to be a grandchild in trouble, needing bail money or cash because they were robbed. You may also get messages on Facebook or through social media from friends or family asking for money after a robbery.
These scammers will ask you to wire money or give them a credit card number.
If you get a call like this, even if the voice sounds familiar, ask lots of questions. Tell the caller you've been hearing about these types of scams and you'll need to ask some questions to verify their identity. Then ask the caller some easy questions about their personal history, family memories and names of family members.
Scammers prey on your sympathy for family members, so they'll try hard to make you feel guilty. If they're unable to answer the questions, don't fall prey to tears or excuses.
Have You Been a Victim of Fraud?
The AARP Foundation runs a toll-free hotline staffed by trained volunteers. Victims or potential victims of financial fraud may call 877-908-3360 for assistance. The AARP team can connect you with agencies across the country that helps prevent, investigate, and prosecute fraud.
*****
Mark A. Vergenes is President of MIRUS Financial Partners, 110 E. King St., Lancaster; 717-509-4521 or mark@mirusfinancialpartners.com Investment Advisor Representative offering securities and advisory services offered through Cetera Advisor Networks LLC., member FINRA/SIPC. Cetera is under separate ownership from any other named entity.
MIRUS Financial Partners nor Cetera Advisor Networks LLC. give tax or legal advice.