You are here

Updates on ESGs
Updates on ESGs
Submitted by MIRUS Financial Partners on December 15th, 2022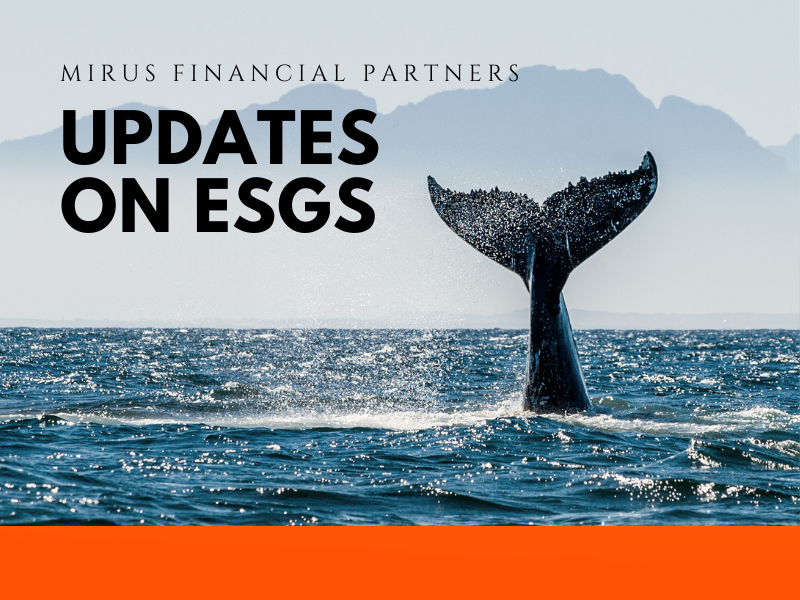 More and more investors are driven by a desire to create a better world. While the definition of improvements varies by individual, Environmental, Social, and Governance funds, or ESGs, offer a range of investments focused on companies with a perceived positive impact on the environment, social contributions, and labor practices. This trend mirrors other socially conscious activities designed to help consumers "vote with their pocketbooks."
The growing popularity of ESG investments has required fund managers to take a more active role in identifying and monitoring these kinds of investing opportunities. By directly engaging with company management, stockholders are able to advocate for improving environmental and social practices, and investment manager oversight is also forcing industries to become more transparent.
History
ESG investing began in the 1960s when investors requested stocks or entire industries to be removed from their portfolios based on business activities such as tobacco production or involvement in the South African apartheid regime. But in the past decade, the number of ESGs has increased substantially. In addition, ESG reporting and analytics have evolved in ways that offer investors greater oversight of the behaviors of companies included in the funds.
Today, ESGs offer easier identification of both risks and opportunities. Instead of being a fringe investment with less regulation, ESGs have become mainstream. Investors are able to evaluate factors beyond financial performance. ESG investors can evaluate corporations' impact, including:
Environmental factors such as improving water and waste management, limiting carbon emissions, and avoiding climate change vulnerabilities
Social factors such as labor management, diversity and inclusion, and community relations
Governance factors such as business ethics and intellectual property protection
The Role of Negative Screeners
By using "negative screens," early ESG funds allowed investors to avoid backing corporations with perceived negative impact, such as tobacco companies. These screens also allowed shareholders to avoid backing controversial investment categories, such as weapons. However, the use of negative screens had limited applications and resulted in a relatively small set of investment options.
As more people become interested in ESGs, more sophisticated methodologies have evolved. While some funds still employ exclusionary screen criteria, they also allow investment managers to evaluate how companies contribute to a range of positive outcomes, such as a cleaner environment, labor practices, or social justice.
The assessment of these EGS funds is well-rounded. Fund managers review corporate governance against a checklist of positive qualitative attributes such as management's willingness to improve environmental practices, good labor relations, diversity and inclusiveness, and favorable treatment of employees. This kind of comprehensive approach, paired with more reliable metrics, allows financial advisors to adjust client portfolios toward favorable company characteristics while still providing greater downside protection.
The Cetera Selection Process
Cetera Advisor Networks LLC is the broker/dealer and Registered Investment Adviser for Mirus Financial Partners. It has offered ESG options for several years that are selected based on the following criteria:
Must be explicitly bound by ESG principles as stated within the prospectus and are actively managed as sustainable investments
Run by dedicated management teams that have been ESG-focused for an extended period
Are managed by established investments within firms with a solid asset base that can navigate downturns
Display evidence of a repeatable process balancing ESG concerns with long-term capital discipline and delivering solid investment returns
Perform well in comparison to ESG peers and comparable benchmarks
Satisfy the same quantitative metrics used for any fund, including manager tenure, AUM levels, performance consistency, results above peers, reasonable net expense ratios, and good downside protection within the various asset classes
Do ESGs Work with Your Investing Goals?
Many socially responsible investments could provide good financial returns, and many may not. Remember that past performance is never a guarantee of future results, but you should use past performance as a starting point to determine what kind of return you might expect. If you want to learn more about including ESGs in your portfolio, contact Mark Vergenes at Mirus Financial Partners.
Read more about socially conscious investing by checking out these Mirus Financial Partners blogs:
Socially Responsible Investing
Green Energy as an Investment Strategy