You are here

Talk To Your Family About Life Insurance
Talk To Your Family About Life Insurance
Submitted by MIRUS Financial Partners on September 5th, 2017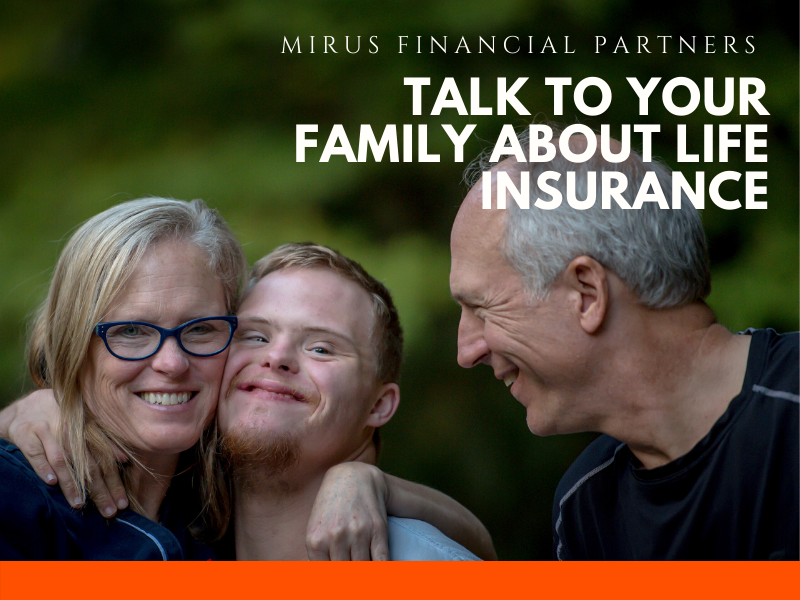 Talking to your family about life insurance is uncomfortable. Discussing what happens when your or a loved one dies can trigger feelings of fear or even panic. That's why so many discussions about what happens after you or a loved one dies can end in an argument.
Why is Life Insurance So Important?
The proper life insurance plan can relieve or even eliminate financial worries after your or a loved one passes on.
Adequate life insurance will replace the support you give your family after you're gone. Think about things like mortgages, utilities, car payments, and standard of living. While you may not want to invest in eternal financial support, you will want to make sure you give your loved ones a cushion of financial support, and time, to reorganize and readjust to their new realities.
A life insurance policy can also allow you to spend your own savings or retirement funds.
So often, older or retired spouses or parents put off vacations or purchases. They feel guilt in spending their spouses or children's inheritance. With adequate life insurance, you make sure your family has the support they need when you pass on. You can spend your savings or retirement funds on your life, and focus on enjoying life.
Life insurance allows you to leave a larger legacy.
Some of us will struggle to save a million dollars to leave as an inheritance, but many of us can afford a million-dollar life insurance policy. Life insurance can also give you the kind of inheritance that allows you to support your church, your favorite charities, or deserving individuals upon your death.
Make sure you cover your financial bases and be sure to consider life insurance as a part of your overall financial plan. September is Life insurance awareness month. Talk to your loved ones and agree on the plans that are right for your family.
The cost and availability of life insurance depend on factors such as age, health, and the type and amount of insurance purchased. Before implementing a strategy involving life insurance, it would be prudent to make sure that you are insurable by having the policy approved. As with most financial decisions, there are expenses associated with the purchase of life insurance. Policies commonly have mortality and expense charges. In addition, if a policy is surrendered prematurely, there may be surrender charges and income tax implications.