You are here

Holding on to Sudden Wealth
Holding on to Sudden Wealth
Submitted by MIRUS Financial Partners on February 28th, 2016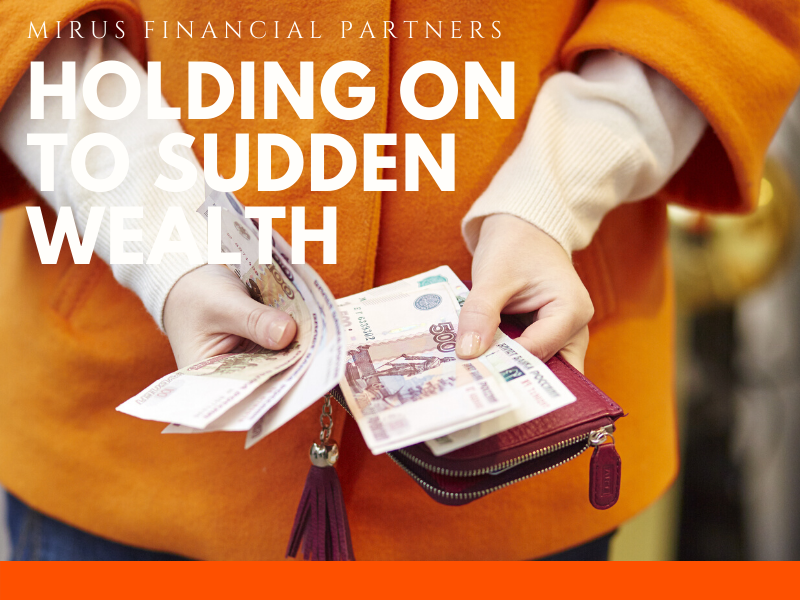 Cash Windfall? Suddenly Wealthy? Have a Plan for Holding onto Sudden Wealth.
There are several ways you may find yourself suddenly wealthy. Some people find their new job offers more income and bonuses that they ever imagined. Perhaps you accepted a generous offer and sold your business. Others win a lawsuit, gain an inheritance, or win the lottery. No matter who you are or how you found your newfound wealth, managing a large sum of money, out of the blue, can be both exhilarating and daunting.
Whether it is $100,000 or $100 million if you don't make smart financial planning decisions, it's very likely you'll lose it all. It's common for people with sudden wealth to make big purchases like expensive cars, elaborate vacations, or huge homes without considering how these purchases affect their overall financial picture.
Few people think through all the things they need to do to make their windfall income improve their long-term financial future. Before you make any spending decisions, there are a few smart tips you can use to make sure your financial fortune lasts.
What to do Immediately
Open an interest-bearing checking or savings account. Deposit your check as quickly as possible. While you will need some time to decide how to allocate your money, don't miss out on short-term interest. Depending on the size of your windfall, holding onto a check may result in losing hundreds of dollars in interest.
Short-Term Financial Considerations
Take a Time Out
Don't spend any money for a few weeks, or even a few months. Clear your head, assess your entire financial situation and then commit to a financial plan that works for you. Pay off your creditors, especially those with interest rates higher than 10% to 15%. Carefully consider the implications of paying off mortgages or car payments. Sometimes holding onto a low-rate loan has more benefits than paying it off immediately.
Talk to a Financial Planner
No matter how much you like and trust your friends and family, don't rely on them for financial advice. Financial planners are trained to guide clients to develop strategies that help them meet financial goals, protect wealth, avoid unnecessary fees or taxes and make the biggest impact on long-term prosperity. A financial planner can also help you get some financial basics in place, like a will, life insurance or a retirement plan. (in short, call me)
Long-Term Financial Considerations
Rethink Your Charitable Strategy
While it may make sense to give a large donation to your favorite charity, a financial planner will help you find the ways to contribute that provide the best tax deductions. They also are able to advise you on ways to format that donation in ways that are most beneficial to the recipient.
Beware of Tax Implications
If you're not aware of state and federal income and mortgage tax implications, you may be shocked at your tax bill. New homes, homes in other states, business investments, business start-ups, property investments or changes in the way you make money have a major impact on your taxes. Make sure you have an experienced tax advisor who can inform you of tax implications before you make purchases or business decisions.
Sudden wealth isn't simple. If you don't manage your money and your decisions wisely, you'll find yourself out of money much quicker than you ever thought possible. Make sure you turn to a financial planner to help you create a wealth plan that allows you to reach your goals.