You are here

Strategies for Market Shifts
Strategies for Market Shifts
Submitted by MIRUS Financial Partners on April 19th, 2022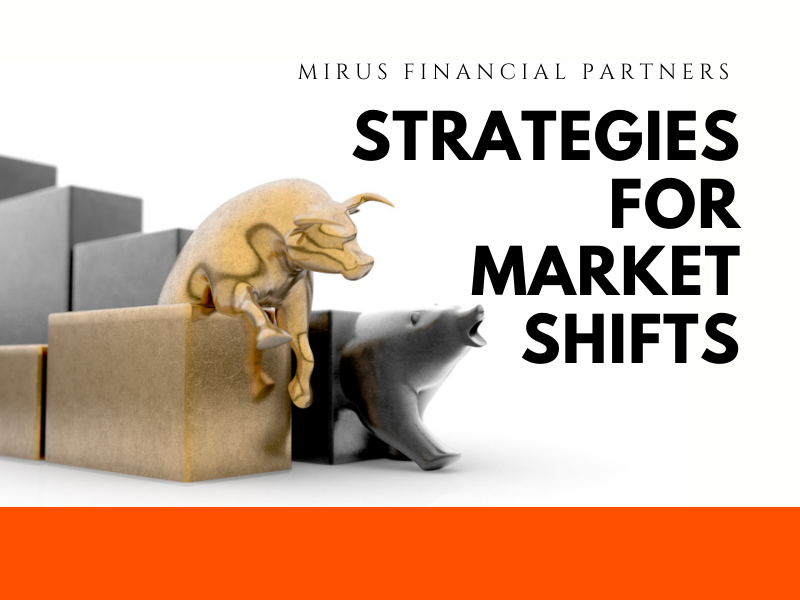 Sometimes the economy is booming, and we get a bull market. Other times it seems sluggish, and it's called a bear market. We've seen several dramatic swings in the economy and the financial markets in the past few decades. Today's faster communications and technology mean that either market can get much better or much worse very quickly. Events like the COVID-19 pandemic and the Russia-Ukraine war can also impact the market. We can't control world events or the way the economy behaves, but we can control our responses to these changes.
When it comes to investing and financial markets, instincts often tell us to do the wrong thing. Overconfidence can tempt us to buy at market highs. Pessimism tempts us to sell when the market is low.
However, successful investors don't always follow these instincts. One of the richest men in America, Warren Buffet, once said, "Be greedy when others are fearful and fearful when others are greedy."
When the Market is Going up, Proceed With Caution
On January 4, 2022, the Dow reached an all-time of 36,952. While a strong market is often a great time to be an investor, it may not be the best time to buy more investments. After all, in any market cycle, there is a peak. In a growth stage, the market is on an upswing, unemployment is low, and interest rates are usually going down.
When the market peaks, some investors forget about caution. These people want more investments, so they buy them at a high price, called "buying high." High-priced investments may increase in value if the market continues to climb, or they may fall in price if the market corrects.
The cautious investor has a couple of smart options in a bull market:
Liquidate some of your priciest investments and capture some gains.
Purchase high-quality bonds to help prepare for the eventual downturn.
Play the long game and ride out the ups and downs of the market until your eventual retirement.
When the Market is Going Down, Proceed With Caution
Once a financial market peaks, watch out for the bear market when the economy slows down, unemployment ticks upwards, and corporate profits level out or decrease.
When the market is down, people become angry or regretful about investments that are losing value. Many are tempted to cut their losses and liquidate investments.
However, the average person is investing to meet long-term goals, such as retirement. That means it's unwise to react to each turn in the market. When the market dips, it's a good time to check a portfolio's asset mix to make sure it still works with the investor's goals and timeframe.
The cautious investor has a couple of options in a bear market:
Liquidate some of the worst investments and cut some losses.
Purchase high-quality investments at low prices to help increase a portfolio's value when the market eventually swings upwards.
Play the long game and ride out the ups and downs of the market until the investor's eventual retirement.
Portfolios Are a Long-Term Decision
Understanding the economic and market cycle is essential. It's also smart to weigh the options as the market goes up and down. Start by re-assessing personal financial considerations. How much risk is the investor willing to take? Is there time to rebound if a decision results in a loss? Is the mix of stocks, bonds, mutual funds, and cash the right choice to help meet financial goals without stretching a tolerance for risk?
For example, if an investor is under 40, they still have decades until they need retirement savings. There is time to take a few more risks and allocate more to aggressive/risky investments. This makes it more likely that the balance will go down when the markets drop. But when investing over time, it's possible to invest more when stock prices are low to help a portfolio increase in value during the bull phase.
For those who are near retirement age, it may be wise to invest conservatively. It's smart to protect investments and shift into mixed-asset funds. This creates a portfolio that can better resist the swings of the market. As a result, investments usually make less in upcycles, but also are likely to lose less in downturns.
Ready to get a professional to help you create your long-term financial plan? Contact MIRUS Financial Partners today.