You are here

Spring Forward Financially in March
Spring Forward Financially in March
Submitted by MIRUS Financial Partners on February 14th, 2023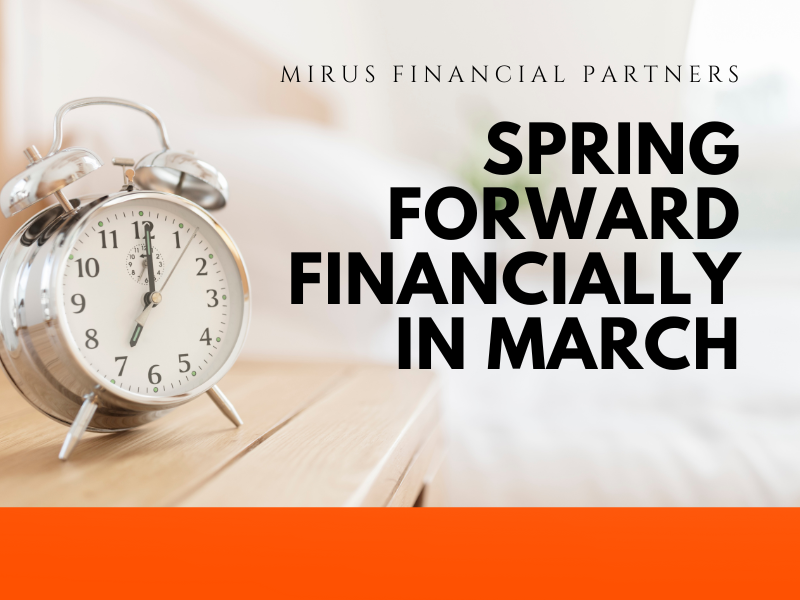 We've all used the new year as an opportunity for a fresh start, but new year's resolutions are famously hard to stick with. Maybe people find winter to be a little demoralizing (especially after the high of the Christmas holidays.) It gets dark early, and these months seem better suited to long naps than fresh starts.
The start of daylight savings time, however, feels completely different. Spring is in the air. The days are getting longer, and you may feel more energetic once you see those first spring flowers popping up. This is a great time to revisit your financial plans.
Get Started by Setting Financial Goals
A solid financial plan starts with defining your personal financial goals. These kinds of goals can be challenging because they rarely exist in a bubble. They are often tied to things you can't change quickly, like salary, mortgages, car payments, and retirement funds. You may have a range of priorities, such as college expenses, vacation plans, home improvement, career goals, and more. No wonder it's easy to get overwhelmed.
But that doesn't mean you can't create a solid plan for yourself and your family. The trick is to break it down into smaller, more manageable tasks. Here are a few tried and true strategies for financial goal setting. Try these and let me know if there's anything Mirus can do to help.
Start by Listing All Your Financial Goals, Including the Improbable Ones
Take a pencil and paper (or computer) and start listing all the things you want to achieve. Many people list paying off mortgages, becoming debt-free, taking more vacations, paying for college, getting a dream car, saving for a sound retirement, or remodeling their home. Other people want to switch careers, spend more time with their families, downsize, or make life simpler.
Whether you want to accumulate wealth, have more money to spend on the activities you love, increase inheritances, protect your savings, or reduce consumption, write it down.
You may have a few improbable goals. For example, maybe you want to move to Hawaii or spend a year touring Europe. Include those to your list. You may find you're willing to sacrifice a lot to achieve these goals, or you may decide to remove them from the list in the end. But keep them in place for now.
There's no right or wrong set of goals. The point of this exercise is to figure out what activities will help you and your family live your best lives.
Break It Down
Once you have your list of goals, break them down by adding details. For example, if you want to take more vacations, what does that mean? Do you want to take one a year? Five a year? Ten?

You may want to think about what a vacation is to you. Is it two weeks in Hawaii or a weekend at the lake? Will you fly to a location or drive? Do you want to go out to fancy restaurants or cook over an open fire? As you can see, the details you add to your goals can point to very different financial requirements.
In another example, you might want to break down what retirement looks like to you. At what age do you want to retire? Does your family history indicate you'll have to save for medical considerations? Will you have dependents who rely on you? Do you want to live in your current home or move to a new destination? Do you want to live extravagantly or live simply? Maybe you want to travel. Will you need to move to a more age-friendly home? Do you want to be close to relatives?
As you can see, breaking down your broad goals into smaller chunks helps you know how each plan affects the others. For instance, if you want to stay in a large home after retirement instead of downsizing, that may affect your retirement goals. If you prefer to travel now instead of after retirement, that will impact how much wealth you need to accumulate.
Again, there is no wrong answer. The purpose of the exercise is to be aware of what's important to you, the scale and scope of your goals, and how each activity affects your overall financial situation so you can plan accordingly.
Make a To-Do List
Now that you have listed your goals and broken each one down, adding details, you may see a gap between your current financial strategies and the funds you'll need to reach your goals. For example, if you decide that travel is your most important goal after retirement, you may see that you're not saving enough. So how will you rectify that gap?
In another example, what needs to happen now if you want to downsize in the future? Will your intent to sell your house someday affect what kind of home renovations you make now? Where will you live when you downsize? Will you move to another city or state? Will you join a retirement community? How will your current home value compare with future home purchases? What kind of tax breaks do those locations offer? If you do the research now and plan ahead, you are better prepared to get the most out of your home sale and find a retirement home that suits your needs perfectly.
Create a Timeline
Your financial future may last for decades, so it's helpful to create a timeline. Of course, starting at a young age makes it easier to meet more goals, but timelines are useful at any age.
With your goals in mind, and a to-do list in front of you, assign a timeline to your goals. For example, when do you want to start traveling? How much will you need to have set aside for that time in your life? If you're going to get a second home or downsize, when will those changes ideally occur? Will you spend the next twenty years in your current home, or is a move just a few years away?
Creating timelines and matching them with priorities and to-do lists is an excellent way to map out what needs to happen, when it needs to happen, and what financial resources need to be available at different stages.
Stay Flexible
Of course, timelines and goals are guidelines. Life is full of surprises. Sometimes a job requires you to move, the economy shifts, family dynamics evolve, or a pandemic makes travel impossible. That's why it's wise to revisit your goals every few years. You may find that your needs have changed. Things that were priorities a few years back drop down the list. Maybe your reasons for downsizing have evaporated, or your hobbies and interest make other long-term plans more attractive.
The point is that long-term planning requires flexibility. Few people have been able to create a plan and stick with it, without revisions, for decades. Changing focus or even completely revising goals is normal. You're ahead of the game as long as you know where you want to go and have a plan for getting there.
Ask for Help
You increase your chances for success when you bring in an expert. Creating a personal financial plan isn't easy. An experienced financial advisor can help clients understand how the market works and make recommendations to diversify or enhance a retirement plan or investment portfolio. In addition, they will explain how interest rates fluctuate, how that affects long-term planning, and how tax laws impact all aspects of financial health.
If you're ready to create or revise your personal financial plans, contact Mark Vergenes to help evaluate your options. Mirus Financial Partners is here to help.