You are here

Sorry for Your Loss. Here's $255
Sorry for Your Loss. Here's $255
Submitted by MIRUS Financial Partners on July 25th, 2016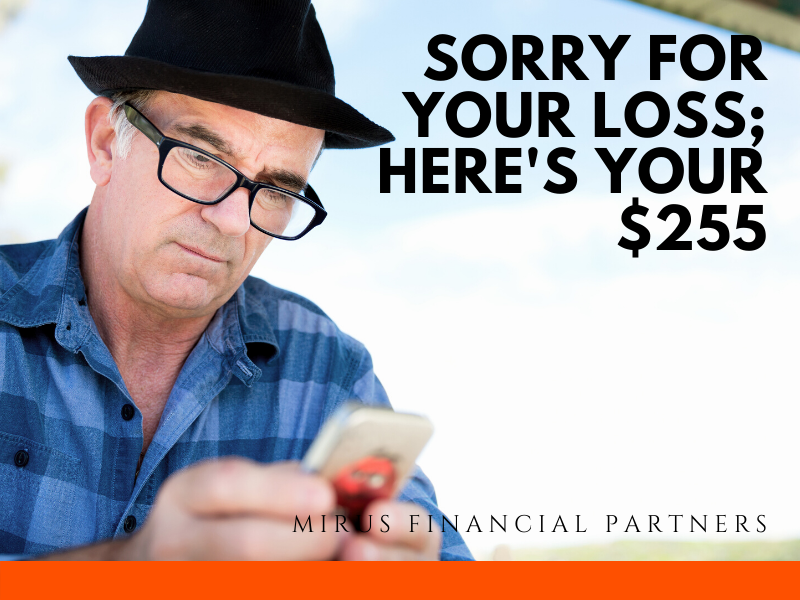 Folks considering final arrangements such as wills, powers of attorney, and last wishes may be surprised by the size of the Social Security lump sum death benefit they'll leave their loved ones. Pssst, it's tiny.
The final Social Security payment to a surviving spouse hasn't changed since 1954
After a lifetime of paying into the Social Security system, the government provides recipients $255 as a final payment to a surviving spouse or minor child. The amount hasn't changed since 1954.
Social Security says the lump sum was never meant to be a "burial benefit" but was intended to help those who died "poor" before retirement age, so the family would be left with something.

In 1939, the average payout was about $97 ($1,651 in today's dollars, according to a government inflation calculator). In 1940, it was recalculated to be six times the Primary Insurance Amount (PIA), which is what a person's monthly benefit would be at Full Retirement Age. At the time, the average lump sum was bumped to $145.

Adjusted again in 1950 and 1954, the maximum benefit came to be $255, calculated then as three times the PIA. By 1981, the rules were again tweaked, effectively setting the lump sum for all at $255. It has remained at $255 since, about 20% of the average monthly benefit check.
Little Effort to Change the Lump Sum Death Benefit
There has been little organized effort to increase the benefit in recent years. Bills entered in Congress to increase the sum have gone nowhere.

In 2006, President George W. Bush's budget proposed eliminating it, claiming the benefit "no longer provides meaningful monetary benefit for survivors."

In a report produced for the House Committee on Ways and Means last year, the Congressional Research Service concludes, "The real value of the death benefit has declined dramatically since it was introduced."

Undaunted, freshman Rep. Mimi Walters, R-Calif., introduced a bill in February calling for an increase to $1,000. The National Funeral Directors Association touted the legislation and said the organization "worked with" Walters to develop it.

Walters did not herald the bill's introduction with a news release on her website. The bill was assigned to a committee, where it remains. If history is an indication, don't expect an increase.