You are here

Social Security Announces Increase in Benefits
Social Security Announces Increase in Benefits
Submitted by MIRUS Financial Partners on October 20th, 2022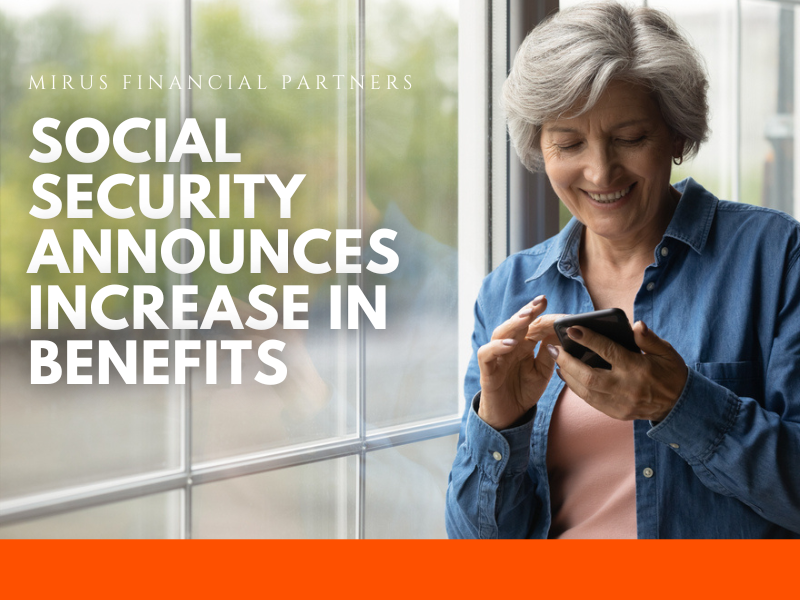 After months of inflation, some seniors are getting a break. Social Security has announced that beneficiaries will get the highest increase in benefits in 40 years. The announcement explains, "Approximately 70 million Americans will see an 8.7% increase in their Social Security benefits and Supplemental Security Income (SSI) payments in 2023. On average, Social Security benefits will increase by more than $140 per month starting in January."
The average Social Security retiree benefit will increase by $146 per month to $1,827 in 2023, up from $1,681 in 2022. This 8.7% Cost of Living Adjustment (COLA) is on top of the 5.9% increase in 2022.
Influences on the Size of Benefits Checks
The Social Security Administration announced that the 2023 COLA starts in January. However, online notices from the SSA will begin appearing in December, detailing how much checks will be. The Social Security announcement explains, "We will mail COLA notices throughout the month of December to retirement, survivors, and disability beneficiaries, SSI recipients, and representative payees."
To see the adjustment benefit amount sooner, recipients can securely obtain the Social Security COLA notice online using the Message Center in their personal my Social Security account. However, benefit amounts will not be available before December.
Medicare Premiums Reduced
In the same announcement, the Social Security Administration announced the standard Medicare Part B premium is being lowered by $5.20 in 2023 to $164.90, down from the 2022 rate of $170.10. As a result, Medicare Part B premiums may influence the size of an individual's Social Security benefit check.
Tax Deductions may Affect Your Benefits
Because taxes are often deducted directly from Social Security benefit checks, tax withholdings may affect the size of monthly Social Security benefits.
Other COLA Changes
The Social Security Administration also announced these changes to benefits:
The maximum amount of earnings subject to the Social Security tax (taxable maximum) will increase to $160,200.
The earnings limit for workers who are younger than "full" retirement age (see Full Retirement Age Chart) will increase to $21,240. (We deduct $1 from benefits for each $2 earned over $21,240.)
The earnings limit for people reaching their "full" retirement age in 2023 will increase to $56,520. (We deduct $1 from benefits for each $3 earned over $56,520 until the month the worker turns "full" retirement age.)
There is no limit on earnings for workers who are "full" retirement age or older for the entire year.
The Role of a Financial Advisor
At Mirus Financial Advisors, we help clients understand how social security works, how to plan for retirement, and how to claim Social Security retirement benefits in ways that maximize benefits. Contact us today for a consultation.