You are here

Reimagined Retirement
Reimagined Retirement
Submitted by MIRUS Financial Partners on August 20th, 2021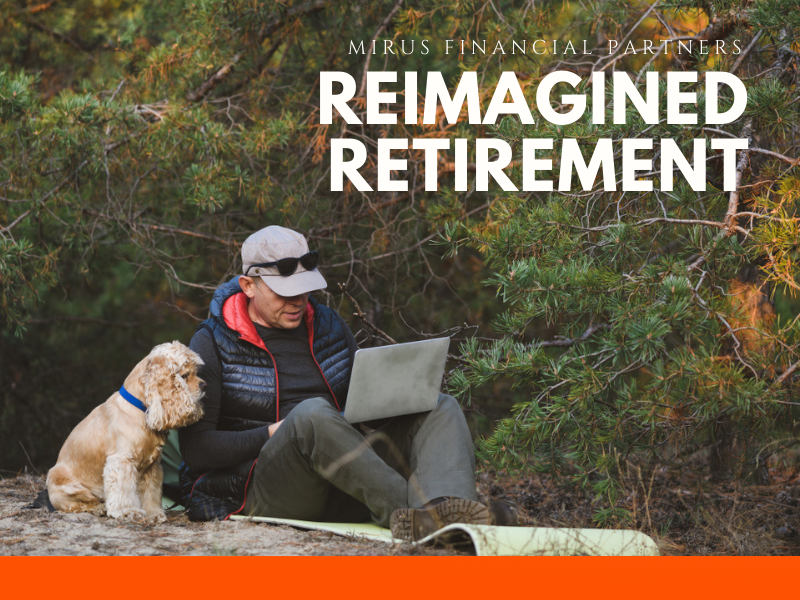 Like everything else these days, the nature of retirement is changing. It's no longer a one-size-fits-all, all-or-nothing proposition. Instead, each person determines their own retirement age and whether they will stay at their job, scale back, redirect, or stop working altogether. Their choices are affected by their health, their wealth, their job satisfaction, and their dreams.
The U.S. Census reports that about 19.6 percent of the U.S. population, or about 65 million Americans, are 65 or older. About 1 in 4 adults age 65 and older are still in the workforce, which means that more than 16 million seniors still go to work, and they account for about 11% of the current workforce. That number is expected to increase, making it the fastest-growing group of workers in the country.
Why are More and More Older Americans Staying in the Workforce?
This shift in the workplace is due to many factors. Most importantly, today's seniors are healthier and living longer than previous generations. While the pandemic lowered the average life expectancy by a year in 2020, it still remains high at 75.1 for men and 80.5 for women. Better self-care and improved access to a range of advanced medical services make it possible for many older Americans to continue working.
Other seniors continue to work because they enjoy their jobs. In fact, working provides the kind of social and mental support older Americans need to stay active and alert, according to a recent study from the Centers for Disease Control.
However, for many Americans over 65, working is not a choice but a financial necessity. Many have not saved adequately. Baby boomers have median savings of a little over $150,000 to get through what could be a 30-year retirement. Even for those with retirement funds set aside, unexpected expenses can eat into savings. A recent survey reported that about 50% of older Americans use some or all of their retirement savings to help their grown children.
Reimagined Retirement
In the ideal world, people start saving early and build up substantial nest eggs. Then, at age 65, they retire in good health and live a long, well-funded life. But this is not the case for everyone.
People in good health can live for decades after retirement, which can strain even healthy retirement funds. On the other hand, people in poor health may find that healthcare costs eat up more savings than anticipated.
In today's environment, working longer is often a smart way to extend the retirement savings period. In addition, many seniors find that part-time or seasonal work provides both income and health benefits, helping them protect their nest eggs.
Other people who enjoy good health find they can extend the retirement date by five or even ten years before dipping into retirement savings.
Still others take advantage of the 65-year milestone to shift gears. They may leave a physically or emotionally demanding career to pursue a job they love. Many take on less stressful but still rewarding jobs in healthcare, social work, non-profits, foundations, parks and recreation, education, and the arts.
The nature of retirement continues to change. While one person at 65 years old can be healthy and alert, another may struggle with health issues. The best way to keep your options open is to create a retirement plan that allows you to pivot when needed.
It's wise to plan for a variety of contingencies and to ensure your retirement plan is set up to cover sometimes unexpected challenges, like ongoing health issues, long-term disability, the loss of a spouse, the need for long-term care, the care of dependents, and estate planning considerations.
If you're ready to start rethinking your future, contact us at Mirus Financial Partners to get started on improving your retirement plans today.