You are here

Q & A regarding Long-Term Care Insurance
Q & A regarding Long-Term Care Insurance
Submitted by MIRUS Financial Partners on March 30th, 2016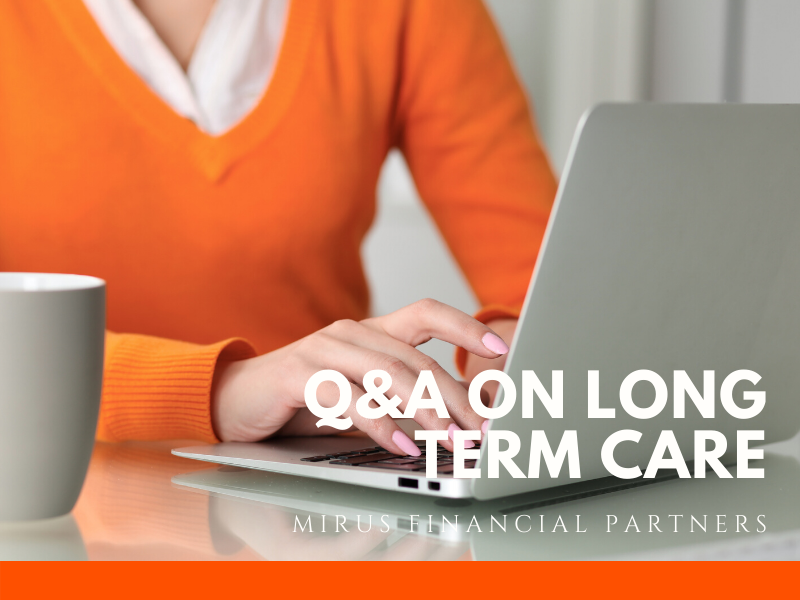 Question:
Should I Buy Long-Term Care Insurance?
Answer:
As we get older and our health declines, the greater the chances are that we will require home care, nursing home care, or other assisted-living arrangements. This care is quite expensive, and Medicare, HMOs, and Medi-gap don't pay for it. You might want to look into purchasing long-term care insurance (LTCI) to protect your assets in case you need long-term care.
Whether or not you should purchase LTCI depends on your age, medical history, assets, and income. Ask a financial professional about whether LTCI is right for you. If you meet some of the following criteria, you might want to seriously consider it:
• You are between the ages of 40 and 84 (generally, LTCI is not available to those over 84)
• You have a family history of Alzheimer's disease
• You own substantial assets that you'd like to protect
• You have family members to whom you wish to leave your assets
• You can afford the cost of LTCI premiums now and will be able to afford them in the future
• You are in good health and are insurable
Question:
What is Long-Term Care Insurance?
Answer:
Long-term care insurance is designed to pay for the cost of your care in a variety of settings, including a nursing home if you can no longer care for yourself independently. Long-term care policies vary widely in their coverages, limitations, and exclusions.
A comprehensive policy generally covers the costs of round-the-clock nursing home care, including that given at custodial, intermediate, and skilled levels. The policy may also cover any expenses associated with assisted-living residences provided that the facility is state certified. Adult day-care centers are often covered as well, as is respite care, which is the temporary professional care you'll need if your regular caregiver is on vacation. Policies may also pay for at-home care provided by registered nurses; respiratory therapists; physical, occupational, or speech therapists; registered dietitians; or licensed social workers.
Policies may also cover the cost of caregiver training for a family member or friend. Finally, the insurance may cover the cost of an independent health-care professional, such as a registered nurse, who will act as your personal care consultant. Such a benefit gives you an objective person with whom you can discuss the quality of your care.
Insurance companies will require that you meet certain conditions before they issue the benefits. For example, they usually require that you be unable to perform certain regular daily activities by yourself, such as normal bathroom functions, bathing, dressing, and eating. Companies will also issue benefits because of cognitive loss as a result of Alzheimer's disease, senility, and other forms of dementia. All of these requirements are explained in the policies. Make sure you speak with a trusted insurance professional, like me, before you purchase this coverage.
The cost and availability of life insurance depend on factors such as age, health, and the type and amount of insurance purchased. Before implementing a strategy involving life insurance, it would be prudent to make sure that you are insurable by having the policy approved. As with most financial decisions, there are expenses associated with the purchase of life insurance. Policies commonly have mortality and expense charges. In addition, if a policy is surrendered prematurely, there may be surrender charges and income tax implications.