You are here

Personal Finance: When Setting Financial Goals, Take the S.M.A.R.T. Approach
Personal Finance: When Setting Financial Goals, Take the S.M.A.R.T. Approach
Submitted by MIRUS Financial Partners on August 20th, 2019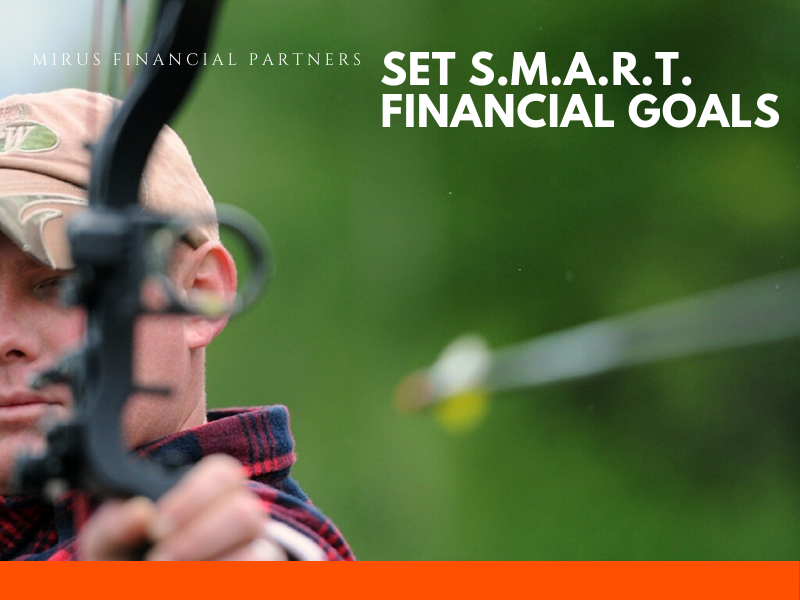 Setting goals and establishing a life plan can be intimidating. After all, the younger you are, the more uncertain you may be. Where will your life lead you? Even as you age, it's tempting to go with the flow and just stick with very short-term goals as you move along.
While that approach can create a flexible lifestyle, it may not be the best approach for personal finance. As you move through life, it's essential to continually establish, measure, and refine long-term financial goals. These goals will help you understand what you need to do to get the car you want. They will help you know what needs to happen if you want to take care of your parents when they're older. And they will help you prepare for significant life expenses like your children's college, your home, or your retirement.
Even if you're not sure what your next job will be, or where you will be living in ten years, it is possible to create an overarching personal financial plan to help you make informed financial decisions at every stage in life.
When creating financial plans, it's smart to start with goals. We recommend using the S.M.A.R.T. planning tool.
S – Specific
M – Measurable
A – Assignable
R – Realistic
T – Timeline
It's believed that George T. Doran created this acronym for a management paper he wrote back in 1981 for the Washington Water Power Company. Since then, S.M.A.R.T. has been used again and again to help people do everything from creating a marketing plan to building bridges. And it's also a handy tool to employ when creating your personal financial goals and strategies.
S is for Specific Financial Goals
When you create goals, it's not enough to write down that you want to "have enough money to live the kind of life I want" or "save for retirement." Those goals are broad and don't really point you or your finances in any one direction. Instead, be specific in ways that help you map out a real plan.
An example of a specific goal would be "pay off my existing debt in the next 12 months." Another goal might be "save enough in the next eight years to pay for half of my two children's college at an elite school." Another example is "save enough to retire at age 70, with a home that is fully paid for, and have enough funds to also purchase a one-bedroom vacation home or condo in Sarasota, Florida."
You can have more than one specific goal, but you shouldn't have dozens. Pick the items that are most important to you and your way of life and focus on achieving the most important goals.
M is for Measurable Financial Goals
As you develop your financial goals, you'll need to assign dollar values. To see your progress as you reach your goals, you'll need to measure them periodically.
For example, "pay off my debt" is a general goal. Instead, you may want to specify "pay off $10,000 in credit card bills over the next 24 months." This allows you to calculate monthly payments needed to pay off that debt and enables you to evaluate your progress monthly.
Another example of a goal that is too broad is "save for retirement." Think more specifically. You may be 20 years from retirement and want enough to spend $50K a year each year of retirement, for an estimated 15 years. This allows a financial planner to help you figure out reasonable savings goals, factoring in interest over time, expected returns, social security, cost of living, health care concerns, and inflation. It's a complicated formula, but having a measurable goal in mind will help you understand what's needed to achieve your goals.
A is for Assignable Financial Activities
Who is going to track your financial goals? Are you going to spend time doing this with your partner or spouse? Would you like a financial planner to help you track your progress? Is your sister-in-law an accountant who wants to help? Are you going to handle it alone? Or maybe it's some combination of people and assignments.
To reach aggressive financial goals, you should assemble a team of experts and make sure everyone understands their assigned role. Your financial goals are important, so don't hesitate to assign duties and use a team.
R is for Realistic Financial Goals
We all want a Porsche. And a villa in Italy. And to retire at age 40. But shooting for the moon is not helpful when creating financial plans. Consider your income and a reasonable projection of your future income, and plan accordingly. For example, if you're 40 and with five children that will be attending college in the next ten years and you're just starting to save, you may not be able to cover all college costs by the time they reach post-secondary school. However, there are other options, such as student aid, student loans, and work-study programs, that can help make college more affordable for you to support all five children, even if you don't pay for everything. It's rarely an all-or-nothing situation.
If you want to eliminate mortgage payments before you retire in five years, but you owe more than $100,000, diverting all your money into home payments may not be your best move. It may be more realistic to downsize, refinance, or even rent your home to tourists for three months of every year.
By being realistic instead of optimistic, you allow yourself to create financial compromises that help you meet those bigger financial goals.
T is for Timeline
It would be great if all 25-year-olds were able to focus on long-term financial goals right from the start. However, most of us postpone serious financial commitments until our 30s, 40s, 50s, or beyond.
Create realistic timelines for your goals and stick to them. While it may feel uncomfortable to extend your mortgage into your retirement years, it may be necessary in order to meet other financial obligations in the interim.
If you want to purchase a new car, it may be smarter to keep driving your exiting vehicle longer, saving for two years, so you can buy a nicer car while still keeping your monthly payments affordably low.
The more time you give yourself to reach financial goals, the more attainable they will become. Planning early can, literally, pay off in the long run.
MIRUS Financial Partners, Mark A. Vergenes, President, 110 East King Street Lancaster, PA 17602. mark@mirusfinancialpartners.com www.mirusfinancialpartners.com
Investment Advisor Representative offering Securities and Advisory Services through Cetera Advisor Networks LLC, member FINRA/SIPC. Cetera is under separate ownership from any other named entity. MIRUS Financial Partners and Cetera Advisor Networks LLC are not affiliated.