You are here

Lottery Winner? Inheritance? What to Do With a Financial Windfall
Lottery Winner? Inheritance? What to Do With a Financial Windfall
Submitted by MIRUS Financial Partners on June 12th, 2023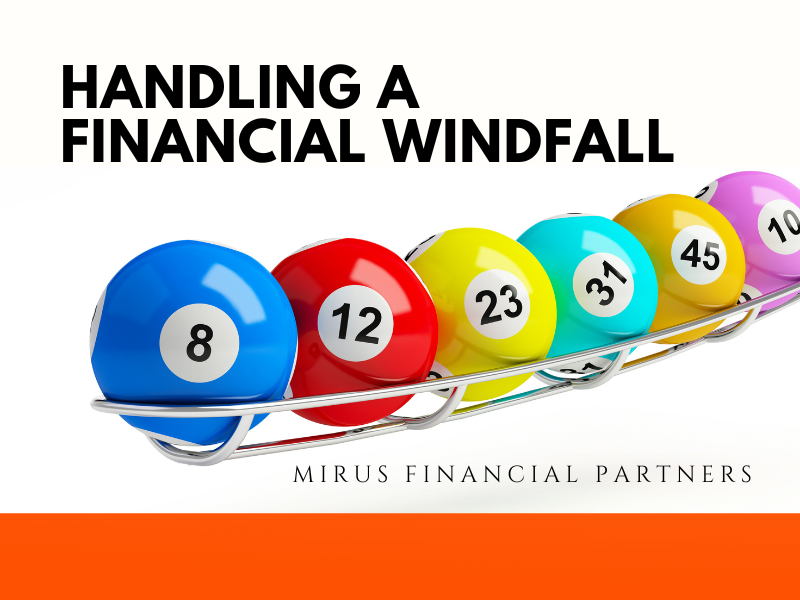 We hear about big lottery winners all the time. And many of us have friends who found themselves suddenly wealthy after a business gets big, a company went public, a home was sold, or they received an inheritance. While lottery wins are not a reality for most people, it's not all that uncommon to suddenly have a lot of extra cash on hand from a large inheritance, a sale, a settlement, or perhaps a stroke of good luck with an investment.
It's also common to hear about the failings of people who have come into big money only to see it blown away. If you find yourself with fortune, here's what you can do to avoid following in their footsteps:
1. Keep Your Situation Private
Unless you want hoards of investment salespeople, family, friends, and scammers descending on you, you should do all that is possible to avoid publicizing your windfall. The reason is that you will need time and space to think through your future and how you want to handle your newfound wealth. While you may believe well-intentioned people surround you, the only person who has your interests at heart is you.
This might prove difficult if you come into an inheritance unless it was passed to you through a trust. Generally, when assets pass by trust, they avoid probate proceedings which are a matter of public record. But, if your inheritance did pass through probate, it will be just a matter of time before your phone starts ringing.
2. Hire a Team of Financial Professionals
Instant wealth, while it might be able to solve many problems, can also make life much more complex. With each new opportunity it ushers in, newfound wealth can also drive some people to make bad decisions that wipe out huge portions of their cash through poor tax management, bad investments, or guilt-induced generosity.
Most people are not emotionally wired to make sound money decisions, which is why wealthy people surround themselves with a team of trusted, objective financial professionals to help them avoid costly mistakes. You will need an accountant, preferably a Certified Public Account. You will also need an attorney for tending to legal matters and the planning of your estate. If you don't have anyone in your circle that you can trust to fill these roles, you should focus your efforts on finding a Wealth Management Specialist or Financial Advisor. These professionals operate under strict fiduciary rules. They will work with you to develop and implement a thorough financial plan.
Many financial advisors work collaboratively with teams of experts that include attorneys, CPAs, and insurance specialists. You should seek referrals and conduct interviews to find a financial advisor who most closely reflects your values. And always check the backgrounds of any financial professional, tax consultant, or attorney you are considering.
3. Turn Unexpected Cash into Sustainable Wealth
You will be faced with several decisions about how to invest your money. Depending on the size of your windfall, you may have a broad range of options open to you, some involving more risk than others. In all cases, your first objective should be to create a guaranteed stream of income that you cannot reasonably outlive. With this income stream in place, even if something happens to the rest of your assets, your financial security is intact. There are several ways to create this income stream, such as investing a portion of your assets into safe government bonds and holding them to maturity. It's also possible to invest funds in a deferred annuity that generates a guaranteed rate of return that can later be converted into a guaranteed stream of income. With your financial future secured, you can invest your surplus for growth through a diversified investment portfolio.
4. Have a Plan for Friends and Family
This is always the touchiest part of being a windfall recipient (and another reason to avoid publicity.) Depending on the size of your windfall and the degree to which you have secured your financial future, you may have some philanthropic desires, and they may include helping your friends and family. As a result, it's not unusual for windfall recipients to be overrun with requests even by people you haven't seen for a long while.
One way to extricate yourself from the guilt trips and awkwardness of dealing with requests is to forward them to your financial advisor, who can dole out predetermined sums. It's not at all uncommon for people of newfound wealth to put themselves on a salary controlled by their financial advisor.
If you're wondering what to do with sudden revenue or wealth, contact us to discuss your options. We'll help you map out a plan and even provide references to other trustworthy resources, such as attorneys and tax experts.

For a comprehensive review of your personal situation, always consult with a tax or legal advisor. Neither Cetera Advisor Networks LLC nor any of its representatives may give legal or tax advice. A diversified portfolio does not assure a profit or protect against loss in a declining market. U.S. Government bonds are backed by the full faith and credit of the U.S. Government as to the timely payment of principal and interest. The principal value will fluctuate with changes in market conditions. If they are not held to maturity, they may be worth more or less than their original value. The guarantee of an annuity is backed by the claims paying ability of the issuing insurance company. Although it is possible to have guaranteed income for life with a fixed annuity, there is no assurance that this income will keep up with inflation. There is a surrender charge imposed generally during the first 5 to 7 years or during the rate guarantee period.
There is a surrender charge imposed generally during the first 5 to 7 years that you own a variable annuity contract. Withdrawals prior to age 59½ may result in a 10% IRS tax penalty, in addition to any ordinary income tax. Investment sub-account values will fluctuate with changes in market conditions.An investment in a variable annuity involves investment risk, including possible loss of principal. Variable annuities are designed for long-term investing. The contract, when redeemed, may be worth more or less than the total amount invested. Variable annuities are subject to insurance-related charges including mortality and expense charges, administrative fees, and the expenses associated with the underlying sub-accounts. Investors should consider the investment objectives, risks and charges and expenses of the variable annuity carefully before investing. The prospectus contains this and other information about the variable annuity. Contact your financial professional to obtain a prospectus, which should be read carefully before investing or sending money.