You are here

Is Inflation Back?
Is Inflation Back?
Submitted by MIRUS Financial Partners on May 10th, 2021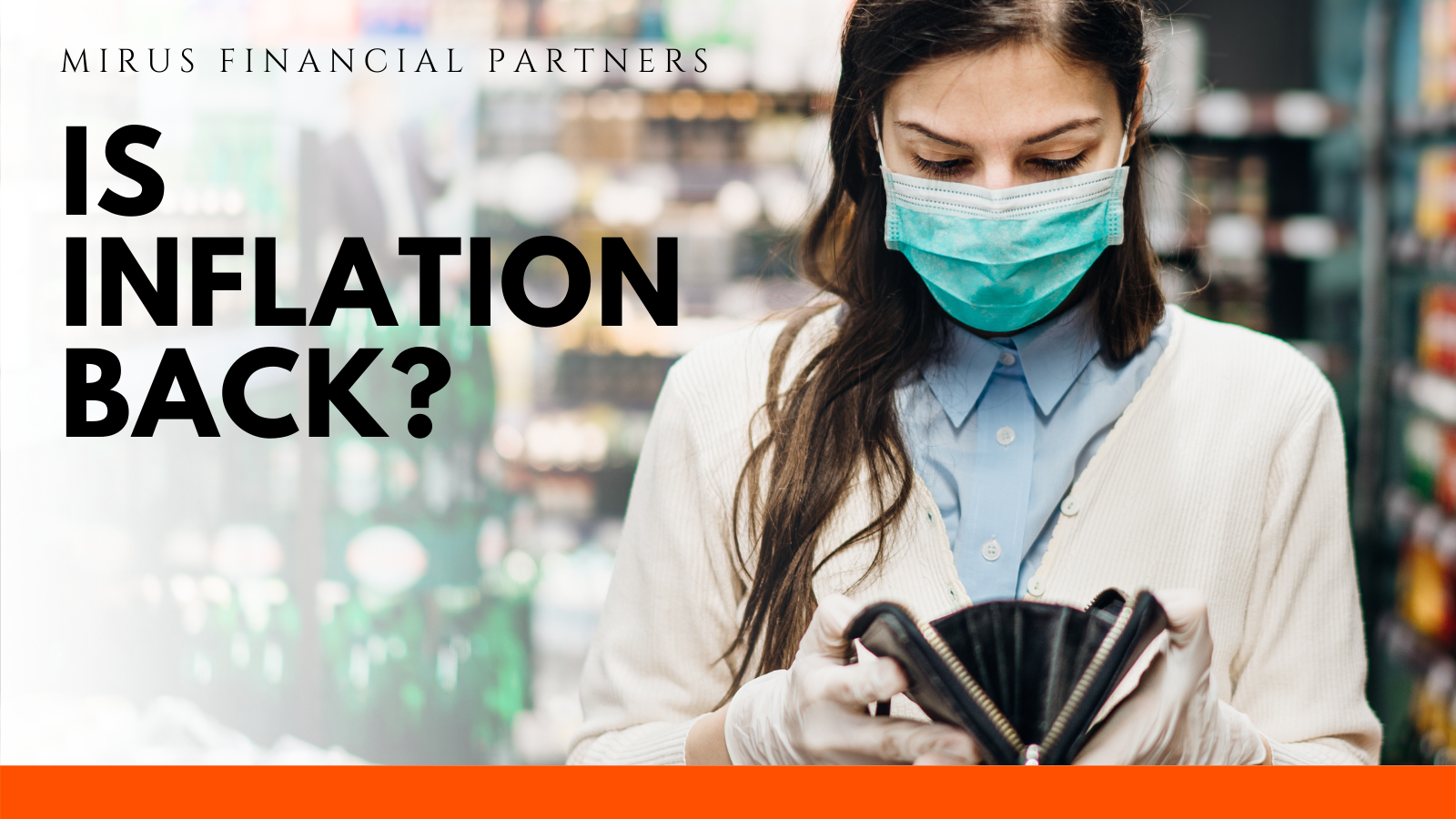 The older folks reading this may remember inflation from the 1970s, when inflation and Federal Interest Rates reached double digits. In fact, inflation spikes were a challenge throughout the 20th century as the world dealt with the effects of two world wars, changes in banking policy, and gas shortages. But in this century, inflation has been relatively mild. In fact, in the 21st century, inflation peaked at a mere 4.1% in 2007. Similarly, Federal Interest Rates remained at all-time lows, below 1%, from 2008 to 2016.
However, inflation seems to be returning. And while it's unlikely to reach the heights seen in the 1970s, these changes do warrant our attention.
The Most Significant One-Month Increase Since August 2012
In March 2021, the Consumer Price Index for All Urban Consumers (CPI-U) rose 0.6%, the largest one-month increase since August 2012. Over the previous 12 months, the increase was 2.6%, the highest year-over-year inflation rate since August 2018. (By contrast, inflation in 2020 was just 1.4%).
Some of these increases resulted in comparison to an unusually low point in prices due to the effects of COVID-19. The pandemic-related drops in the index will continue to skew annual data through June 2021.
However, economists expect inflation numbers to rise for some time. Experts are unsure if this is a short-term blip or the beginning of a bigger inflationary trend.
The Economy is Hot
There are inflationary pressures on the U.S. economy. The trillions of dollars in government stimulus could create an excess money supply as the economy reopens. While some people suffered financially during the crisis, others continued to work and, with limited ways to spend, built up savings accounts. Businesses that shut down or cut back when the economy was closed may not be able to ramp up quickly enough to meet demand.
Additionally, the combined effect of supply chain disruptions, tariffs, weather, higher costs for raw materials, transportation, labor, and increased demand in the housing market has led to significant price hikes for many types of building materials and goods.

However, drops in prices in other areas, such as airfare, are countering spikes, making the average inflation lower. Additionally, some inflation is corrective. Gasoline, jet fuel, and other petroleum prices that nose-dived during the pandemic are rising, so current price increases are technically inflation but are generally not higher than pre-pandemic levels.
According to the April Wall Street Journal Economic Forecasting Survey, gross domestic product (GDP) is expected to increase at an annualized rate of 8.4% in the second quarter of 2021 and by 6.4% for the year. This would be the most robust growth rate since 1984. The expectation is for a hot economy through the end of the year, followed by a solid 3.2% growth in 2022 before slowing down to 2.4% in 2023.
What's Next for the Economy? There are Three Possibilities.
Though most economists expect inflation numbers to rise in the near term, experts disagree on potential long-term effects. Here are three possible scenarios.
1. Federal Reserve Chair Jerome Powell and Treasury Secretary Janet Yellen have said that inflation will be short-lived with few or no long-term consequences and anticipate mild hikes to the Federal Interest Rate.
2. Some experts believe that inflation will continue longer, with potentially wider consequences, but that its effects will be temporary and reversible.
3. Still others propose that inflation could become an ongoing problem that could be difficult to control. In this scenario, when businesses increase costs, workers demand higher wages in response.
We're Still in a "Wait and See" Mode
While experts predict different outcomes, it's really too early to tell how or if current inflation continues. Remember that inflation increases may come from recovering prices or spikes in some industries. Increased inflation levels do not always represent the larger economy. And with interest rates hovering near zero, the Federal Reserve has plenty of room to adjust monetary policy.
Please note that any projections or predictions in this article are based on conditions at the time of publication (unless otherwise specified), are subject to change, and may not come to pass.