You are here

How to Handle Market Swings
How to Handle Market Swings
Submitted by MIRUS Financial Partners on September 18th, 2015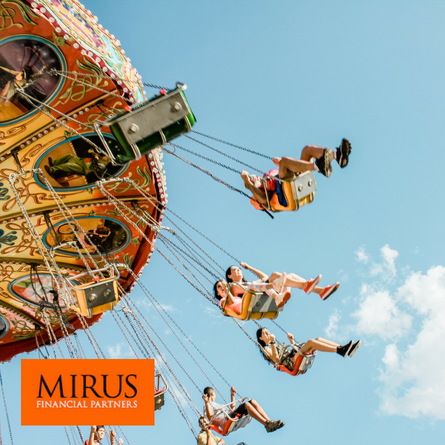 While we've all been told that market volatility is normal, it can be hard to watch when it's your money at stake. While there's no foolproof approach to dealing with market swings, there are a number of approaches that can help mitigate risk and minimize exposure.

Diversity May be the Best Policy
Spreading out your investments, and your risk, is one way to protect your assets. We've all heard the old saying "don't put all your eggs in one basket." Turns out it's good advice for eggs and financial assets. Because asset classes often perform differently under different market conditions, having a diversified portfolio may help you weather market highs and market lows. Talk to your financial advisor to determine which products fit best with your personal goals and timelines.

Practice Caution: Every Situation is Different
When the market goes up or down quickly, it's tempting to pull out of the market altogether. However, before you radically change your investment strategy, make sure your actions fit with your long-term financial goals and your investment timeframe. Pulling out of the market at the wrong time may mean you lose assets without allowing yourself the time needed to recoup or increase your investments. Again, every situation is different, and you should consult with a financial professional before making any decisions.

Keep the Big Financial Picture in Mind
In our 24-7 news cycle, it's easy to get caught up in market fluctuations. The media knows that breaking news and impending doom brings big ratings, so it's in their interest to make every market correction into a major event. Watching the day-to-day market fluctuations makes sense if you're a floor trader, but it's not necessarily a healthy way to approach a long-term financial plan. Because most financial plans are developed to meet long-term goals, it may not be a good idea to constantly change and revise based on short-term market activity. While you're the only one who can decide how much risk you're comfortable with, use the years you have to invest to your advantage, and keep your sights on the big picture.

Pay Attention to Financial Markets
Although tuning into financial news 24-7 can be a bit masochistic, having a good working knowledge of the financial markets is important. Make sure you understand how all the financial products in your portfolio work, and be aware that every financial product carries some level of risk. Review your financial plan at least once a year, and more often if you're going through major life changes or getting close to retirement. Talk to your financial professional about all your investments, and make sure they can explain them to you in plain, easy-to-understand language. While market swings can be intimidating, by spreading out your risk, investing conservatively, keeping an eye on your long-term goals and understanding how your investments work you'll not only have greater peace of mind, you'll also be better armed to evaluate and react to risk.
Remember that all investment involves risk, including the possible loss of principal, and there can be no guarantee that any investment strategy will be successful. Past performance is not a guarantee of future performance.
*****
Mark A. Vergenes is President of MIRUS Financial partners, 110 E. King St., Lancaster, PA 717-509-4521 or mark@mirusfinancialpartners.com Investment Advisor Representative offering securities and advisory services offered through Cetera Advisor Networks LLC., member FINRA/SIPC. Cetera is under separate ownership from any other named entity. MIRUS Financial Partners nor Cetera Advisor Networks LLC. give tax or legal advice.