You are here

How Do Charitable Deductions Work?
How Do Charitable Deductions Work?
Submitted by MIRUS Financial Partners on December 4th, 2019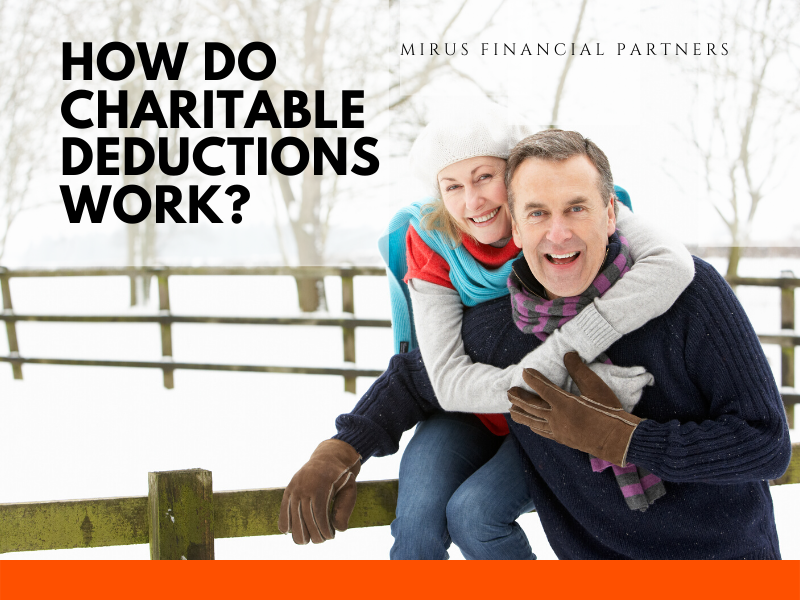 While giving may be its own reward, giving can also lower your income tax. The IRS allows individuals to deduct the value of any property (such as cash or a used car) you give to charity from the value of your estate, which may reduce federal gift and estate taxes.
With a little planning, your charitable gifting may allow you to do good while also achieving your estate planning objectives. There are no limits on the amount that you can donate to a recognized charity or nonprofit.
Charitable gifts are an itemized deductible on your income tax return as well. However, in this circumstance, there is a limit imposed on the amount that can be deducted, and other adjustments may be required.
How does a gift or bequest of property qualify for the charitable deduction?
To qualify for the charitable donation tax credits, you must make the transfer, either during life or at death by will. It can't be made by your executor or by your heirs.
For lifetime gifts, the charitable deduction is allowed for the year in which the gift is made for federal gift tax purposes. You don't need to file an annual gift tax return if all gifts made for a given year fully qualify for the charitable deduction.
To get a charitable deduction, you must donate to a qualified charity. Many rules and regulations apply, so make sure you've checked that your charity meets the qualifications. Donations to individuals or unqualified organizations, no matter how needy, will not qualify for a charitable deduction.
Other restrictions to keep in mind:
You must be a U.S. citizen or resident at the time you make the gift.
You must have the unrestricted right to the immediate use or possession of the property, or the income from the property, from the moment you make the gift. The deduction is not available to gifts of future interests in property.
Partial interest gifts (property rights given to both charitable and non-charitable interests, such as a trust paying income to charity, with the remainder going to non-charitable beneficiaries) may qualify for the deduction if the donated property is transferred to an IRS-approved form of charitable trust, such as a charitable lead trust, charitable remainder trust, or pooled income fund.
The amount of the charitable deduction is limited to the amount of the transfer actually made. Some exceptions apply.
Charitable IRA rollover gifts
Some people reduce their tax burden by donating part of their IRAs to charity. Donors over the age of 701⁄2 can make tax-free charitable distributions of up to $100,000 directly from their IRAs each year as long as the following requirements are met:
The charitable gift is made directly from an IRA to the charity.
It is $100,000 or less per year for each individual. Spouses can also donate up to $100,000 per year.
The gifts can be divided among multiple charities as long as the total does not exceed $100,000 per year.
The gift is not made in exchange for a charitable gift annuity or to a charitable remainder trust.
The gift is not made to a private foundation, donor-advised fund, or supporting organization (as described in IRC Section 509(a)(3)).
Want to Know More?
Understanding how your charitable activities can affect your tax burden can be complicated, and many exceptions apply. If you want to find out if donations will help you or your heir pay fewer taxes, contact Mark Vergenes today to discuss, and see if this strategy makes sense for you.