You are here

Home Delivery, Toilet Paper, and Drones: Which Industries Will Thrive After COVID-19?
Home Delivery, Toilet Paper, and Drones: Which Industries Will Thrive After COVID-19?
Submitted by MIRUS Financial Partners on August 4th, 2020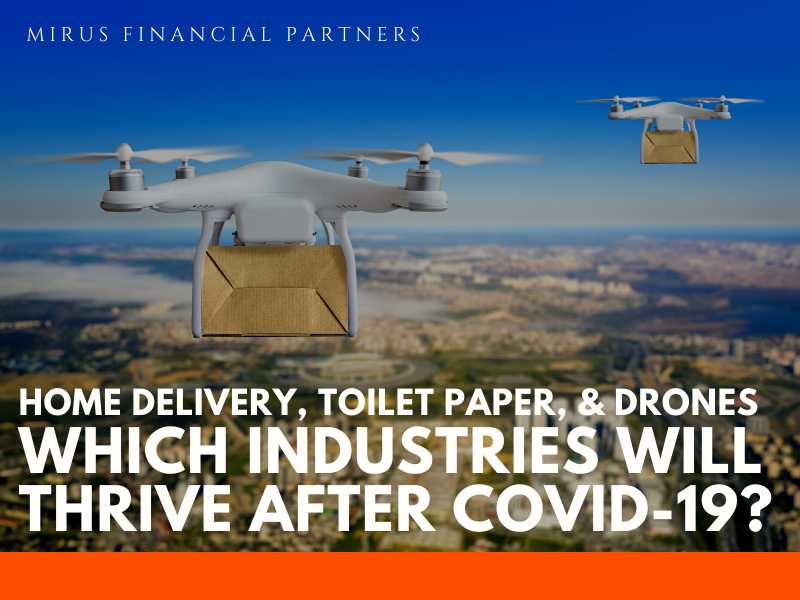 By now, we all know that the COVID-19 pandemic has changed many things in our world. Across the planet, people continue to become dependent on technology, work-at-home products, online learning needs, and home cooking.

Conversely, many people have stopped using some things and no longer go to many places. Some of our changed behavior is temporary, and we'll go back to our old ways once the pandemic is no longer a threat. But in other ways, we're changed forever.
Which behaviors will stick, and which are short-term? No one knows the answer for sure, but when considering long-term investments, it's useful to consider how the world might change.
Here's a sample of some experts' thoughts on which products, companies, and industries will thrive after COVID-19 has come and gone.
NOTE: The following list is intended to be a sample of opinions. Mirus Financial Partners does not necessarily endorse any or all of the following predictions, observations, or opinions.
Grocery Stores
According to SupermarketNews, "Almost half of shoppers reported that they are buying more groceries online or have started making online purchases because of COVID-19, Coresight's research showed. Of online purchasers, 34.9% said they're buying more groceries because of coronavirus, and 14.4% said they started shopping online for groceries due to the pandemic. Another 10.5% indicated they're buying groceries online less amid the outbreak, and 40.2% said the crisis hasn't impacted their online grocery shopping. Over the past couple of years, the online grocery shopping rate has more than doubled. In 2018, 23.1% of consumers said they had bought groceries online in the last 12 months, and 25.8% said they planned to do so in the next 12 months. Those figures climbed to 36.8% for actual online purchasers and 39.5% for expected online buyers in 2019. Then in the 2020 survey, those numbers jumped to 52% for actual online grocery purchasers and 62.5% for planned online grocery buyers."
Education Technology
MarketWatch.com predicts opportunities. "Prior to COVID-19, the online education market was expected to grow from a $107 billion market in 2015 to $350 billion by 2025. But the pandemic could accelerate the growth as schools grapple with how to hold classes while adhering to social distancing guidelines, and colleges and universities explore hybrid in-class and remote learning models. The state of Iowa is a leader in education technology, with more than 3,100 people working in the industry, with a diverse mix of startups and larger companies and more than $22.7 million in venture capital or angel investments raised since 2010, according to an annual report from the Iowa EdTech Collaborative. A part of the collaborative, Pear Deck, an Iowa City-Cedar Rapids edtech company founded in 2014, allows teachers to create interactive presentations and has seen record-breaking use of their tools this spring. In the U.S., between March 1 and April 30, the company trained more than 20,000 new teachers on their tools and recorded more than 30 million moments of engagement."
Industrial Real Estate
From Colliers International, "Typically when we think about an e-commerce distribution facility, we calculate that they require about three times that of a typical business-to-business facility to accommodate more complex pick-pack systems and provide access to a greater variety of product. With an interest in bringing some industries back to the United States for better control in times of disruption, as well as a new trend of increasing safety stock, demand for industrial space will likely grow. Following on the growth of e-commerce, new retailers will develop strictly online marketplaces and have management either working from the distribution facility and/or from home."
Working From Home
The Harvard Business Review notes that work-from-home industries are set to thrive. "Google has said a majority of their employees can work from home until 2021. Twitter CEO Jack Dorsey told employees that they'd be allowed to work from home permanently, even after COVID. According to the U.S. Census, about 5% of American workers primarily worked from home in 2017, up from over 3% in 2000. The Bureau of Labor Statistics noted that in 2018, 29% of workers had the option and ability to work at home. Both numbers will surely increase as a result of the many weeks in which most professionals found ways to be productive outside the office. How much will it increase? That is a function of two key factors, namely what employers can gain from more work from home and what employees want. A survey of CFOs noted that they planned to shift 20% of their employees to remote work to save costs…20–30% of workers could end up working from home a meaningful amount, which is a four to six-fold increase of what it was just a few years ago."

Home Delivery
The U.S. Chamber of Commerce predicts a sustained increase in the home-delivery business. "Retailers, restaurants, grocery stores and more are hiring local delivery drivers to make shopping safe and simple. Industries that you may not expect to move to delivery are going that direction too, including car shopping and custom-made cocktails. All of this adds up to a future with more delivery options and the likelihood that most new consumer-facing businesses will offer a delivery option."
Wine and Spirits
SmallBizDaily.com reports liquor sales are strong. "Anxiety, stress, and fear have had a new constant presence in the lives of people around the world. Given the upended state of society, liquor sales surged more than 20% after businesses and schools shut down. Liquor stores keep the profits soaring by offering delivery and curbside pickup in areas with the strictest lockdown orders."
Contactless Payment
Lendio.com suggests contactless payment providers will prosper. "Despite the dire situation many small businesses face, 36% are actually seeing better sales. Of these rising businesses, 27% cite contactless payments as a key component of their success…Various forms of contactless payments are already in wide use worldwide, but the United States has been slow to get on the bandwagon. That appears to be changing, and businesses related to the technology and processing of contactless payments are set to thrive."
Cybersecurity
Security Magazine reports, "According to a LearnBonds.com report, besides boosting their cybersecurity spending, as the top IT priority this year, around 55 percent of major organizations will boost their investments in automation solutions, revealed HFS Research survey conducted in April. Smart analytics, hybrid or multi-cloud and artificial intelligence follow, with 53 percent, 49 percent and 46 percent of those bodies asked naming them as their leading IT investments this year."
Drones
The New York Times says this is a big moment for drones, which are "…suddenly everywhere during the coronavirus crisis, taking over any number of human tasks as people hunker indoors. Drones have been working as police officers, soaring over the banks of the Seine in Paris and the city squares of Mumbai, to patrol for social distancing violators. Coronavirus has been devastating to humans but may well prove a decisive step toward a long-prophesied Drone Age, when aerial robots begin to shed their Orwellian image as tools of war and surveillance and become a common feature of daily life, serving as helpers and, perhaps soon, companions."
Recycled Toilet Paper
Bloomberg News reports, "With Americans spending a lot of time at home these days, more money is being spent on soft toilet paper. That may be bad news for the environment. Nearly 60% of at-home toilet paper in the U.S. comes from so-called virgin material, which is sourced from Canada's northern forests. The NRDC for years has highlighted the impact of tissue that uses non-recycled content. In the latest study, the group handed out F grades to brands from Procter & Gamble Co., Georgia-Pacific, and Kimberly-Clark Corp.—the three largest U.S. manufacturers of toilet paper—for the environmental impact of their products."
Ready to Talk About Adjusting Your Portfolio?
When you're ready to adjust your investing approach to leverage the "new normal," contact us and we'll set up a financial review to analyze your opportunities.