You are here

Find out why Most Employed Adults in the U.S. Plan to Work Past Retirement Age
Find out why Most Employed Adults in the U.S. Plan to Work Past Retirement Age
Submitted by MIRUS Financial Partners on January 18th, 2018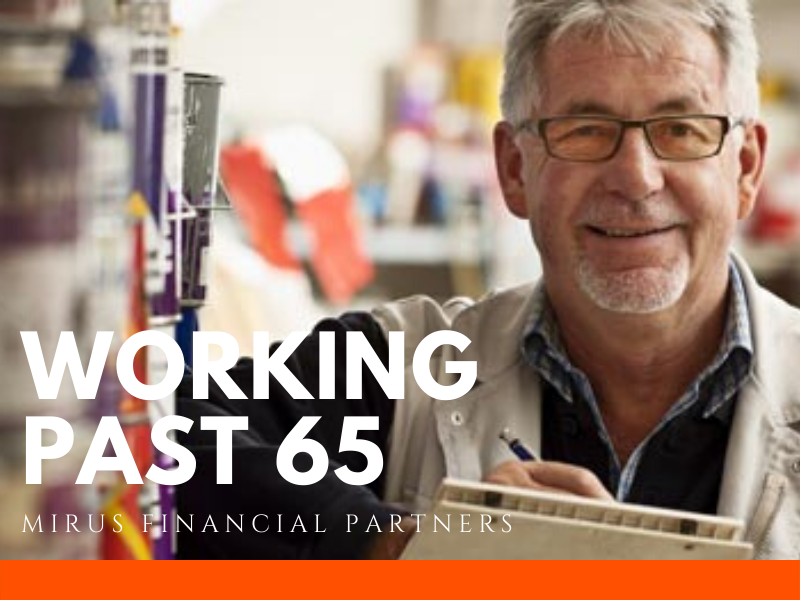 According to recent Gallop research, 74% of Americans don't plan to stop working when they reach retirement age. Even among people currently 65+, reports show more and more Americans are spending their retirement years working.
Almost 19 percent of people 65 or older were working at least part-time in the second quarter of 2017, according to the U.S. jobs report This is the highest percentage of working seniors in 55 years. The number has been historically lower since American retirees won better health care and Social Security benefits in the late 1960's.
Why are older Americans staying in the workforce? Many seniors are healthier and living longer than previous generations. They have the energy and health to continue working. Many don't fully retire because they enjoy their jobs. Others find working provides the kind of social and mental support they need to stay active and alert.
However, for many Americans over 65, working is a financial necessity. Many have not saved adequately. Even for those with retirement funds set aside, keeping a steady source of income, allows seniors to stretch retirement funds.
For people in good health, with many decades in front of them, working longer makes sense to help defray costs later in life, when part-time employment may not be an option. Combine longer lifespans with rising health care costs and you'll understand why some people are postponing retirement.
While no one can tell you what your future will bring, it's wise to plan for a variety of contingencies, to ensure your retirement plan is set up to cover sometimes unexpected challenges, like ongoing health issues, long-term disability, the loss of a spouse, the need for long-term care, the care of dependents and estate planning considerations. Contact us at Mirus Financial Partners to get started on improving your retirement plans today.
http://news.gallup.com/poll/210044/employed-adults-plan-work-past-retirement-age.aspx
https://www.bls.gov/news.release/pdf/cewqtr.pdf