You are here

Financial Planning and Dealing with Dementia and Alzheimer's Disease.
Financial Planning and Dealing with Dementia and Alzheimer's Disease.
Submitted by MIRUS Financial Partners on March 6th, 2016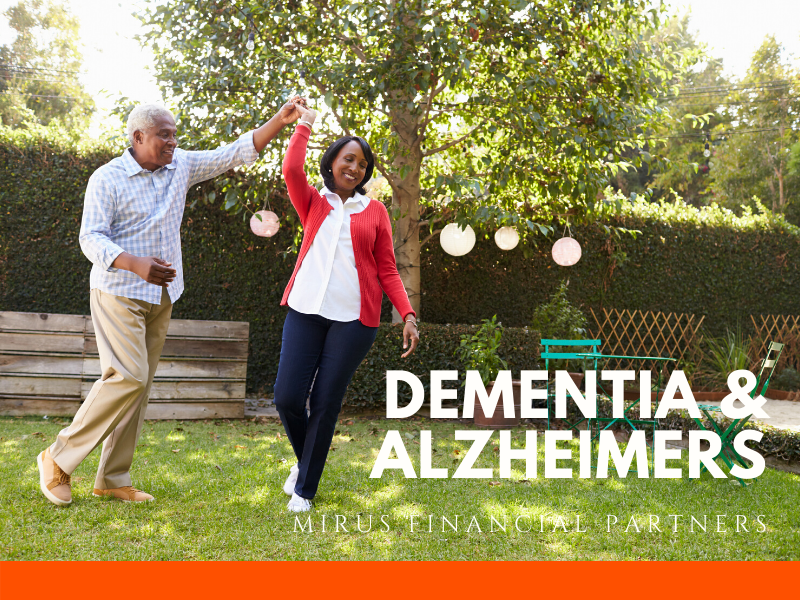 It's devastating to find out your parents, spouse or loved ones have been diagnosed with conditions like Alzheimer's that result in eventual dementia. These conditions are often long-term and can have a real impact on your financial situation for years to come.

Once you get a diagnosis, it's time to start thinking about your financial plans.
Inventory Assets and Income
It's important to create a complete view of the assets involved, including financial holdings, savings, homeownership, social security, annuities, and pensions.
Think about how these payments could be affected by other changes in family circumstances such as the death of a spouse. Will pensions transfer to a widow? What percentage of social security, if any, will continue after the passing of a spouse?
Mapping out assets and understanding insurance will help you create a plan that works for you and your family.
Take a Close Look at Insurance
After you've reviewed all assets and income sources, it's time to turn to insurance policies. Examine your plans carefully to ensure they fit your current and future needs. Will you need additional policies to fill coverage gaps?
Know what your insurance covers, and when it tops out. For example, many older adults incorrectly believe Medicare will cover their long-term care expenses. In reality, Medicare covers care in a skilled nursing facility only for the first 100 days, so you may need Medicaid to cover long-term costs. A home and any other assets could be confiscated after the client passes to recoup Medicaid or nursing home expenses.
Now is the Time to Discuss Intentions
It is difficult for most people to think about disease progression, but talking about this early after diagnosis, in the mild stage of cognitive decline, can help you learn your loved one's wishes and help reduce stress later.
Use these discussions as the basis for future legal arrangements. Does this person have a living will? Do you know what to do in every medical eventuality? Get it in writing to make sure the patient's family and medical team know the patient's wishes.
Talk about where they want to live as the disease progresses, how they want care to be managed and delivered, and who they want to manage finances when they are no longer able.
As health declines, your loved one will need more help managing day-to-day financial affairs, including tracking expenses and paying bills. Will you take care of bills, or should a third party manage finances during this emotionally challenging chapter of your life?
Discuss Care Management
Decisions should be made as early as possible to finance and facilitate care. As the disease progresses, caregiving demands will intensify. While many people are determined to care for spouses at home, people with dementia often wander off or get hostile if they don't recognize you. They often require more care and confinement than most people can manage at home. Explore your long-term care options early on, including in-home care, nursing care or assisted living and how to pay for it.
Talk to a Financial Planner
It's not easy to talk about Alzheimer's or dementia The reality is that people and families dealing with cognitive impairment often need a professional financial planner to help them with this conversation. Bringing in a professional early on helps you prepare for an emotional journey and all the financial ramifications associated with this horrible condition.