You are here

Financial Mistakes to Watch For In Every Decade
Financial Mistakes to Watch For In Every Decade
Submitted by MIRUS Financial Partners on July 20th, 2015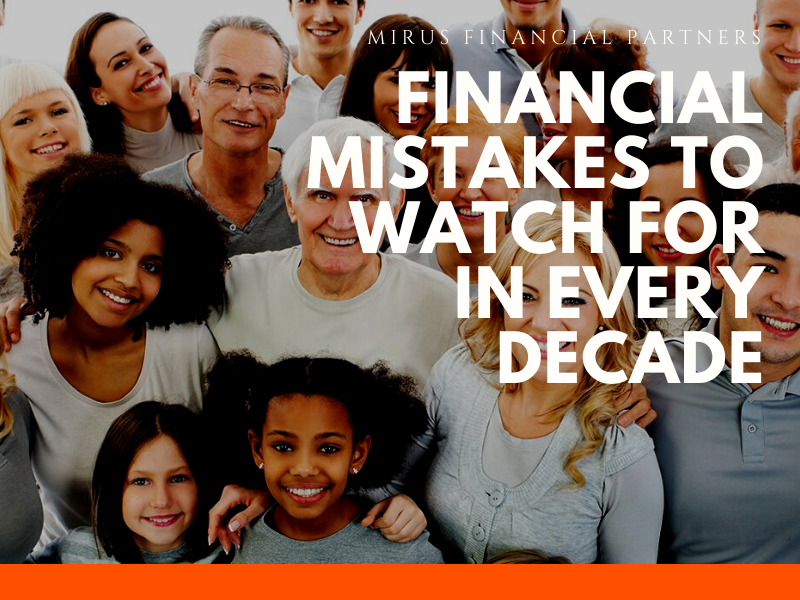 As we move through life we confront different challenges as we age. Here are a few common financial challenges for each decade. How well do these profiles match with your life stage?
Financial Planning in Your Twenties
Living Beyond Your Means - It's tempting to indulge in travel or the latest digital device, but taking on too much debt early on can hurt you for years to come. Avoid taking on unnecessary debt early in your career.
Ignoring Retirement Savings Plans - Start saving early to see big returns decades later. You probably won't miss a couple of hundred bucks a month, so start now.
Financial Illiteracy - It's important to become familiar with the basics of saving, budgeting, and investing early on. What you learn in your twenties will benefit you for the rest of your life.
Financial Planning in Your Thirties
House Poor - Don't max out your resources on your mortgage. Budget house payments conservatively, and leave plenty of wiggle room in your budget for things like switching jobs, going back to school, leaving the workforce, or increasing the size of your family.
Underinsured - As your responsibilities grow, life insurance and disability insurance become more important than ever. This is one area where it pays to play it safe.
Retirement Savings - it may not surprise you to learn that 20-somethings ignore retirement, but this is the decade to get serious. Budget retirement savings into your financial plan now, or you may be struggling later.
Financial Planning in Your Forties
Keeping Up With The Jones - For many, this is the decade where they start to feel pressure to start showing their affluence with a bigger house, better vacations or an expensive car. Resist the pressure to overspend. The best revenge is a healthy savings account.
Diverting Savings into College, Instead of Retirement - While the pressure may be on to send the kids to college, it can't be at the expense of your retirement. They have their entire life to pay for college, but retirement is much closer for you. It's important to talk to your kids about academic options that you can both afford.
Ignoring Wills and Directives - No one wants to think about death, but if you haven't written a will or an advance medical directive by now, you putting your family at risk for high stress, emotional situations. Make sure everyone knows what to do when you're no longer around to make these decisions.
Financial Planning in Your Fifties and Sixties
Co-Signing for Adult Children - This is not the time to take on risks. Help your adult children with advice and support, but not by assuming their debt.
Raiding Your Home Equity - As you get closer to retirement, you want to keep your home at full value. Many retirees will need to use that equity to partially fund retirement.
Guessing at Retirement Income Needs - As you approach retirement, you should know exactly how much to expect from Social Security, and how much you'll need to supplement that income. Don't be surprised.
Not everyone encounters the same challenges in each decade, but we all need to approach our financial life conservatively, spending less than we make, living well within our means, and keeping long-term goals in mind.
*****
Mark A. Vergenes is President of MIRUS Financial partners, 110 E. King St., Lancaster. Investment Advisor Representative offering securities and advisory services offered through Cetera Advisor Networks LLC., member FINRA/SIPC. Cetera is under separate ownership from any other named entity. Mark can be reached at mark@mirusfinancialpartners.com or 717-509-4521. MIRUS Financial Partners nor Cetera Advisor Networks LLC. give tax or legal advice.