You are here

The Financial Considerations of a Late-Life Divorce
The Financial Considerations of a Late-Life Divorce
Submitted by MIRUS Financial Partners on February 1st, 2021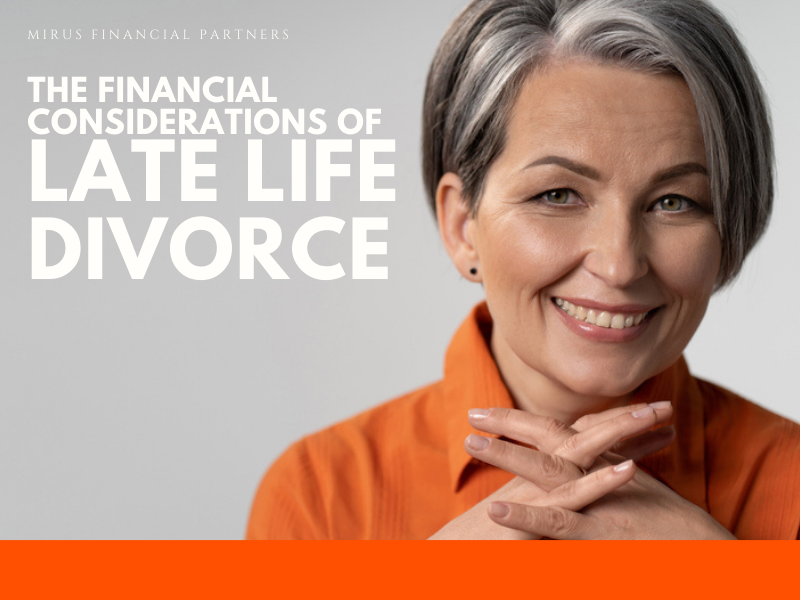 Deciding to separate or divorce is challenging at any age. But there are special considerations for those who divorce over the age of 50.
Late-life divorce, also called "gray divorce," has become more common in recent years. While the overall divorce rate has been stable in the past few decades, it's doubled for those 50 and older since 1990.1 The divorce rate has nearly tripled for those 65+ and is more likely for couples in second marriages.2
With one out of four marriages ending in later life, divorce has become a growing obstacle to retiring for millions of Americans.3 Without careful planning, many may be on worse financial footing than their married or widowed peers.4
Financial Planning and Protecting Assets in a Gray Divorce
For those who decide to split up after 50, or after 65, following a few extra steps can protect their finances and help them prepare for financial planning for one.
Make a Budget
When couples split, each partner's monthly expenses change dramatically. This is an excellent time to rethink personal budgets. List each of the individual's costs, including mortgage or rent, household expenses, utilities, car payments, insurance, and other financial commitments. Each spouse should recalculate their income and see if their earnings can cover expenditures. If not, it's time to rethink expenses or rework savings and investments to cover shortfalls.
Get Individual Insurance
Shared policies should be canceled, and each partner needs to find health, life, disability, homeowners, or automobile insurance. Even if an existing policy is in one name, this is a good time to update beneficiaries. A financial professional can help with this process.
File Taxes Separately
Even if the divorce isn't final, it's now possible to file the last return as married filing separately. New divorce settlements made in 2020 will convey further tax implications as alimony income will no longer be taxed, and alimony payments won't be tax-deductible. Contact a tax professional to find out which options are best for each situation.
Revisit Investment Decisions
In a marriage, one partner often handles most financial decisions, including where, when, and how to invest. It's smart to talk with a financial professional to understand the current situation, how divorce will affect that situation, and what needs to be done to split assets.
Get Ready for the Next Phase of Your Life
Planning for a new future can be exciting or scary. In each scenario, it's smart to create a plan as soon as possible to keep more options open as changes occur. A qualified financial professional can help their clients navigate all the decisions and understand the financial implications of their choices. While more seniors may be newly divorced, they don't have to go it alone.
Want to read more articles about financial planning and divorce? Try these articles.

What Happens to Financial Assets in a Divorce?
After the Divorce: New Financial Realities

1 "Led by Baby Boomers, Divorce Rates Climb for America's 50+ Population," Pew Research Center, 3/9/17 (most recent data available).
2 "The Divorce Rate Is at a 40-Year Low, Unless You're 55 or Older," Wall Street Journal, 6/21/19
3 "Marital Biography, Social Security Receipt, and Poverty," Research on Aging, 12/16/16 (most recent data available).
4 "Gray Divorce Can Have Big Financial Impact," Chicago Tribune, 3/2/18 (most recent data available).
The cost and availability of life insurance depend on factors such as age, health, and the type and amount of insurance purchased. Before implementing a strategy involving life insurance, it would be prudent to make sure that you are insurable by having the policy approved. As with most financial decisions, there are expenses associated with the purchase of life insurance. Policies commonly have mortality and expense charges. In addition, if a policy is surrendered prematurely, there may be surrender charges and income tax implications.