You are here

Do You Really Need Life Insurance?
Do You Really Need Life Insurance?
Submitted by MIRUS Financial Partners on May 9th, 2023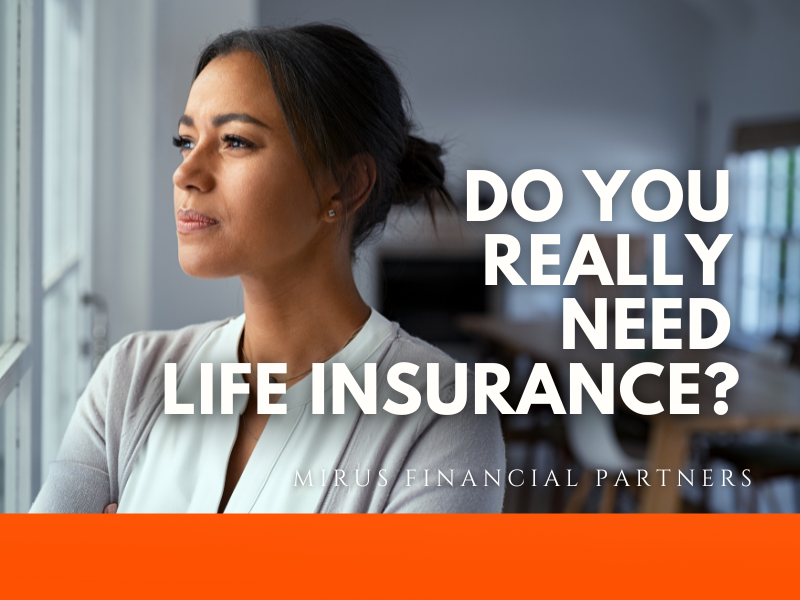 Many forget to include life insurance when developing a financial plan. But life insurance effectively protects your family and loved ones from a catastrophic loss at any age.
When considering life insurance, it's wise to look at various factors, including the number of people you support, debt, ongoing financial obligations, your life stage, and even tax considerations.
Term vs. Permanent Life Insurance
Life insurance is a financial protection policy. It helps you protect the people you love from financial hardship if something should happen to you. Life insurance is also a way to protect your business concerns, especially if you're in a partnership.
There are two basic types of life insurance: term and permanent. Term life insurance requires the policyholder to pay regular payments for a set period, usually between ten and 30 years. If they die while the policy is in effect, their beneficiaries receive a death penalty payout. Term policies provide life insurance protection for a specific period or term. If the policyholder passes during the coverage period, beneficiaries receive the policy's death benefit. If the policyholder lives to the end of the term, the policy terminates. Some policies automatically renew for a new period. Term policies are typically available for periods of one to 30 years. Some policies won't renew after a certain age or may offer decreased benefits after certain age milestones. Generally, term policies don't meet many needs for people in their 60s or above. The only way to get money out of a term life insurance policy is to die. If the policy expires before the policyholder passes, the policyholder receives no return on investment.
Permanent life insurance lasts your entire life without an end date. Whole life and universal life policies fall into this category. This type of insurance has an ever-increasing cash value and savings component and is usually more expensive than term. These options offer protection for the policyholder's entire life, regardless of health. A portion of each payment is placed in the cash-value account. As the policyholder ages, the insurance's true cost increases as the amount of the premium payment devoted to the cash value decreases. However, the cash value continues to grow, tax-deferred, as long as the policy is in force. The policyholder can borrow against the cash value, but unpaid policy loans will reduce the death benefit. If the policyholder surrenders the policy or cancels coverage, he or she is entitled to receive the cash value, minus any loans and surrender charges.
How Much Insurance Should You Purchase?
How much life insurance should you purchase? Remember that an unexpected death not only creates an issue for day-to-day expenses but may also impact future costs such as college education expenses and retirement income. For younger, budget-conscious people, a 20-year term life insurance policy can be a good choice.
Whole life, also called cash value life insurance, can act as a savings vehicle. Policyholders can often borrow against the accumulated value of these policies. These withdrawals can be used to fund college or retirement, even while the policyholder is alive.
Life Insurance May Cover a Mortgage or Long-Term Debt
For most people, a home is both a valuable asset and a source of significant debt. Many homeowners get term life insurance for the length of the mortgage to replace lost income if one or more earners die before the mortgage is paid off. In these cases, the term life insurance payout is often sufficient to pay outstanding mortgage balances.
Use It to Protect Partners or Shareholders
Small business owners often use life insurance to protect their business interests. Life insurance can provide the cash needed to buy a deceased partner's or shareholder's interest from his or her estate. Life insurance can also be used to compensate for the unexpected death of a key employee.
A Way to Create Charitable Contributions
Many people have chosen to take out policies that name charitable organizations as beneficiaries. By setting aside a sum for monthly premiums, even people with modest means can make a big difference to their favorite causes.
Is it Time to Review Your Life Insurance Coverage?
Life insurance needs vary considerably from one family to the next. Once you purchase a life insurance policy, make sure to review your coverage periodically and recognize that over time, your needs will change. Mirus Financial Partners can help you evaluate your insurance needs, explain the health requirements associated with different policies, and recommend policies that work with your goals and budget. Contact us today to set up your appointment.
The cost and availability of life insurance depend on a range of factors, including age, health, and the type and amount of insurance purchased. Not everyone is insurable. As with most financial decisions, there are expenses associated with the purchase of life insurance. Policies commonly have mortality and expense charges. In addition, if a policy is surrendered prematurely, there may be surrender charges and income tax implications.