You are here

Annuities
Annuities
Submitted by MIRUS Financial Partners on August 14th, 2013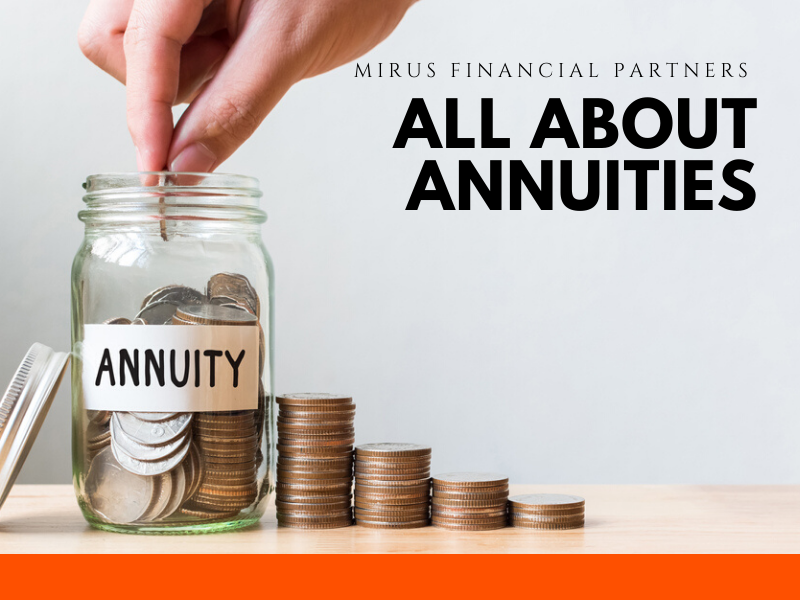 In these past pages of FFL, I have examined and explained such topics for you as; Beyond Traditional Investing; Alternative Investments, Should you be worried about municipal bankruptcies, The Investment Policy Statement: A Portfolio's Road map and Non-Equity Alternatives to Rock-Bottom Yields just to name a few.
Now, I would like to share with you some insight from a colleague of mine, Jim Connell, FAHP, CSA. He has over 35 years' experience working with charities and donors who are so inclined to share their good fortune, create a lifetime income and create a legacy that will endure. So, here's Jim…
The Senior Epoch has arrived and charities are taking it seriously. Ten thousand (10,000) individuals turn age 65 every day and are faced with not only the transition to their retirement but having the critical capital and income to maintain an adequate lifestyle. Many retired individuals have supported their favorite charities during their working years and are looking for tools to continue their support during their retirement years.
Only 7% of the wealth of Americans is in cash, whereas 93% of wealth is in other assets (stock, bonds, mutual funds, retirement plans) and real property. Especially during these challenging economic times and an unstable economy individuals who are charitable are examining the benefits of the most popular life income agreement in America the charitable gift annuity. There is also the wish to get off the rollercoaster equity investments produce.
One of the simplest and most popular charitable life income gifts is a charitable gift annuity. A charitable gift annuity agreement is a legal agreement between a donor and the charity they wish to support. A charitable gift annuity immediately becomes the property of the charity and is an irrevocable gift. The charity is legally bound to fulfill its commitment to pay the annuitant(s) for life. The objective is to obtain a steady stream of reliable income.
It may be established for one or two lives. It is not a commercial annuity and it is not available from an investment broker, bank, trust company or insurance agent.
Gift annuity payments depend on the financial status and payment ability of the sponsoring charity. Many smaller charities will reinsure their agreements with a commercial insurance company providing comfort to donors knowing their payments are secure.
A charitable gift annuity is a gift option that is a combination of an investment and a gift. It provides life income to the donor (and another recipient if desired). The designated charity accepts the gift and in return obligates itself to pay a fixed and specified dollar amount to the annuitant(s) for life.
The donor irrevocably transfers cash or appreciated asset (securities, bonds, mutual funds or real estate) to the charity and in return they receive a fixed guarantee payment for life. The agreement may be set up to provide payments for a single life or for joint and survivor lives.
There are two types of charitable gift annuity agreements one which provides immediate payments and one where the starting date for payments is deferred to some future date the donor selects. This is often called a retirement gift annuity agreement.
Gift Annuity Benefits
As a portion of the annuity is a gift, you'll receive an income tax deduction for the gift if you itemize.
A portion of the annual annuity income is exempt from Federal taxes.
You may save tax on the capital gain (profit from an investment).
You avoid estate taxes, probate, and costs on the amount involved.
The charity will have the use of the funds after the beneficiary's lifetime.
The payments are fixed and will not fluctuate with interest rates.
Your annuity is as safe as the organization you invest with, for the total assets of the organization stand behind their agreement to make payments to you.
Generally the funds used to set up a charitable gift annuity may be structured as an unrestricted gift or to fund a particular item or program that is important to you.
Charitable gift annuities are the gifts that keep on giving. Rates on charitable gift annuities are based on age and whether the contract is immediate or deferred. In many cases, donors receive payments at a rate higher than the interest you are currently receiving from stocks, CDs, or savings accounts.
Below is a table of sample gift annuity rates for one or two life immediate payment agreements. Most charities follow the rates suggested by the American Council on Gift Annuities.
Single Life Immediate Annuity
| | |
| --- | --- |
| Age | Rate |
| 60 | 4.4% |
| 65 | 4.7% |
| 70 | 5.1% |
| 75 | 5.8% |
| 80 | 6.8% |
| 85 | 7.8% |
| 90 | 9.0% |
The annuity rate is determined at the time the gift is made and will not be affected by future rate changes. As a portion of the annuity is a gift, the donor will receive an income tax charitable deduction for the portion that is the gift deductible on Federal taxes. Charitable gifts are not deductible on Pennsylvania income taxes. A portion of the annual annuity payment is exempt from Federal taxes as it is considered a return of principal. A two-life annuity will make payments to you and your spouse or other annuitant for life without a reduction in payment upon the first death. Your joint ages at the time you make the gift determines the annuity rate.
Two Lives - Joint and Survivor Immediate Annuity
| | |
| --- | --- |
| Age | Rate |
| 60/65 | 4.1% |
| 65/70 | 4.4% |
| 70/75 | 4.8% |
| 75/80 | 5.3% |
| 80/85 | 6.1% |
| 85/90 | 7.3% |
| 90/95 | 8.8% |
| 95+/95+ | 8.8% |
An attractive benefit of deferred or retirement gift annuities is they enable a donor to make a gift now and take a charitable income tax deduction now while in a high tax bracket. Income may be deferred, for instance, until after retirement, when the rate of tax will presumably be lower. Deferred gift annuities are creative ways to delay income to pay for children's or grandchildren's college expenses, supplement your retirement income, or assist with assisted-care living arrangements that may be inevitable.
Normally charities offer a gift annuity agreement in return for a transfer of $10,000 or more but it is not unusual for donors to make a sizeable commitment of $100,000 or more.
Example: Alan and Connie Richards, 74 and 76 years old, have watched interest rates fluctuate for years.
They have not been satisfied with their money market fund currently earning 1.5%. They have looked at ways they could get back to the 5-6% rate of return they were used to. However, they do not want to increase their market risk by investing in securities that would fluctuate in value.
For a number of years they have been actively involved with several local charities. In addition to supporting them financially, Connie and Alan have enjoyed volunteering their time and getting to really know the staff and having a deeper understanding of their mission and how they change lives. One day while helping out at her favorite charity, Connie had an opportunity to drop in on the Development Officer and asked her if there was anything that they could do that could help the charity and provides Alan and Connie with some additional income. Connie excitedly brought back a brochure on Charitable Gift Annuities to show Alan.
The Development Officer explained that a Charitable Gift Annuity is a contract between the Richards and the charity. The charity will promise to pay Connie and Alan a fixed rate of return for both of their lives. In this case, the Richards were thinking of a $100,000 annuity. Based on the market conditions and other factors, such as their age, the rate suggested by the American Council on Gift Annuities (ACGA) is 5.0%. This means that the charity promises and guarantees to pay them $5,000 a year, regardless of changes in interest rates, for the rest of their lives. Because they are not using appreciated assets to fund the gift annuity, part of their payment will be considered tax-free return of principal for the Richards.
Based on current calculations, $3,980.00 of the $5,000 annual income will be free from income tax for 16.4 years. Also, part of their $100,000 is a charitable gift and therefore the Richards get a charitable tax deduction in the current year of $34,752.00. That deduction could save Connie and Alan $12,163 this year (based on their 35% federal tax bracket). These numbers do not consider any state taxes that may be applicable. The tax deduction and tax-free income mean the Richards' effective annuity rate (what they would have to earn to equal it with fully taxable income) is 8.10%
Connie and Alan are happy with the increased income and the tax savings, and they are really excited about what their gift will mean to their charity.
The use of charitable gift annuity involves a complex web of tax rules and regulations. You should consider the counsel of an experienced estate planning professional before implementing such strategies.
For more information on gift annuities or for a confidential proposal on the benefits of a gift annuity for your favorite charity contact:
James E. Connell FAHP, CSA, Charitable Estate and Gift Planning Specialists, PO Box 3335, Pinehurst, NC 28374 phone: 910-295-6800 or Email: jec42644@aol.com Internet: www.connellandassoc.com
James E. Connell is not affiliated with Cetera Advisor Networks.
MIRUS Financial Partners nor Cetera Advisor Networks, LLC give tax or legal advice. Opinions expressed are not intended as investment advice or to predict future performance. All information is believed to be from reliable sources; however we make no representations as to its completeness or accuracy. All economic and performance information is historical and indicative of future results. Mark A. Vergenes is President of MIRUS Financial Partners, 110 E. King St., Lancaster, PA. You may contact him at 717-509-4521 mark@mirusfinancialpartners.com or at www.mirusfinancialpartners.com. Investment Advisor Representative offering securities and advisory services through Cetera Advisor Networks, LLC, member FINRA/SIPC. Cetera is under separate ownership from any other named entity.