You are here

9 Year-End To Dos
9 Year-End To Dos
Submitted by MIRUS Financial Partners on December 4th, 2015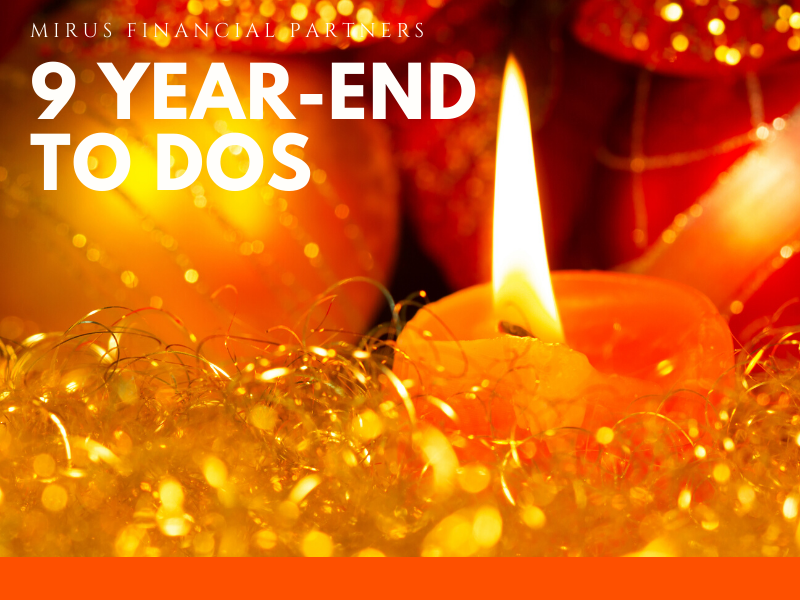 It happens to the best of us.
Something comes up, we get super busy, we forget, and we tell ourselves, "It doesn't need to be taken care of 'right now.'" Whatever the excuse may be, it's not uncommon to wait until the very last possible moment to get something done.
And with the holiday season approaching, it's important to you remind you procrastinators about of these 9 financial 'must-dos' before the clock strikes midnight on Dec. 31.
1. Top off HSA
All contributions added to a Health Savings Account are 100% deductible, as long as they're made by the end of the calendar year.
Individuals can save up to $3,350 (2015)
Families can save up to $6,650 (2015)
Individuals and families 55-plus can save an extra $1,000 (2015)
2. Use all FSA Savings
If your company doesn't offer a grace period or allow the funds to carry-over, any money left in a Flexible Spending Account at the end of the year will be lost.
U.S News and World Report provides several creative ways to spend the remaining funds, including:
Acupuncture
Chiropractic care
LASIK surgery
Weight loss programs
Dental care
3. Adjust Tax Withholding and Update Beneficiary Designations
If you got married, divorced, or had a child in 2015 should adjust their W-4 withholdings. Those who don't could end up giving the government an interest-free loan, or worse, they could owe the government more for not paying enough in taxes.
You should also use this opportunity to update their beneficiary designations.
4. Max Out 401(k) Contributions
In order for 401(k), TSP, 403(b), or 457 contributions to be tax deductible, they must be made by Dec. 31:
Workers under 50 can contribute up to $18,000 (2015)
Workers 50-plus can make catch-up contributions up to $24,000 (2015)
You should, at the very least, contribute enough to get any employer match.
5. Consider a Roth Conversion
If you have clients who will be in an unusually low tax bracket this year, you might suggest the advantages of adding income to their return through a Roth conversion.
6. Donate to Charity
Any charitable contributions are due by Dec. 31. Rather than donating cash, gift appreciated stocks, mutual funds, etc.
7. Contribute to a 529 Plan
This holiday season, why not give the gift that keeps on giving? Any money contributed to a 529 plan will grow tax free, which can help your child or grandchild pay for qualified education expenses.
As an added bonus, some states offer additional tax benefits for contributions made in the same calendar year.
Remember, gifts exceeding $14,000 (2015) per person will be subject to a gift tax.
8. Take Advantage of the IRS Saver's Credit
If you who contribute to a qualifying retirement account may be eligible to claim the Saver's Credit—a tax credit worth up to 50% of contributions to a retirement plan or IRA up to $2,000 for individuals and $4,000 for families (2015).
9. Take Required Minimum Distributions
If you are retired and/or turned 70½ this year (2015) are required to take your first RMD by April 1, 2016. Their second required withdrawal must be taken by Dec. 31, 2016.
Those who wish to avoid having both withdrawals included on their 2016 tax return should make their first withdrawal by Dec. 31 this year.
Please feel free to contact me with any questions.
Mark A. Vergenes is President of MIRUS Financial Partners, 110 E. King St., Lancaster;
717-509-4521 or mark@mirusfinancialpartners.com
*****
Investment Advisor Representative offering securities and advisory services offered through Cetera Advisor Networks LLC., member FINRA/SIPC. Cetera is under separate ownership from any other named entity. MIRUS Financial Partners nor Cetera Advisor Networks LLC. give tax or legal advice.