You are here

5 Ways to Prepare for a Better Retirement
5 Ways to Prepare for a Better Retirement
Submitted by MIRUS Financial Partners on June 13th, 2023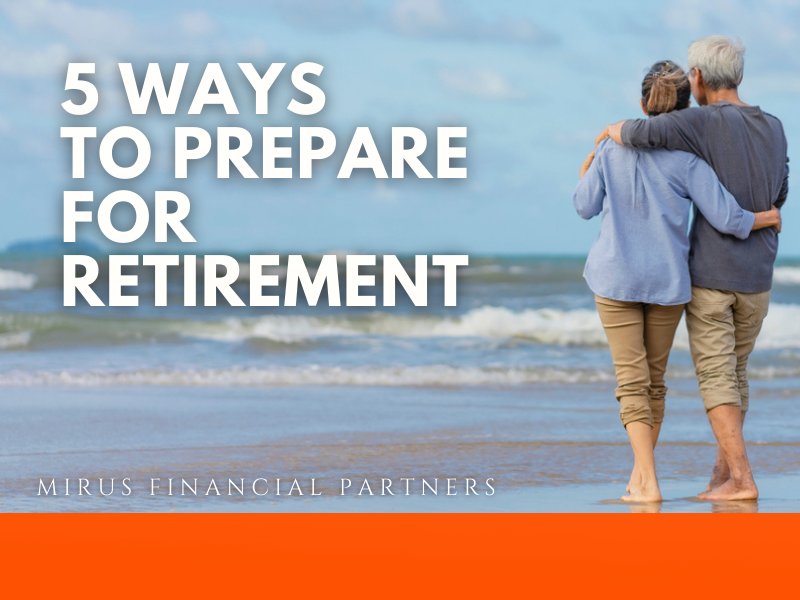 Some people say the rule of thumb to use when planning for retirement is to continue to realize seventy percent of the income you had while you were working. But recent research from Goldman Sachs Asset Management shows that only about 25% of retirees actually generate that kind of income, and more than 50% make due with less than half their pre-retirement income.
Inflation, overspending, unexpected investment performance, and lack of savings can all contribute to a growing gap between what you hope for in retirement and what is possible. But even if your retirement savings are underfunded, you can take a few steps to help save more money.
Think About Where You Will Live
While people often plan to age in place by staying in their homes, many properties are inappropriate for people with mobility issues. It's smart to evaluate the safety of your house and make some upgrades now before they are needed. Installing simple, inexpensive safety features such as guardrails and handrails can make it easier to stay in your home longer. Remodeling a bathroom for easier access is another way to make your property more retirement friendly.
It's also smart to think about the geography of where you'll retire. Moving from pricy urban areas to less expensive communities can be another way to stretch retirement dollars. Comparing property values, quality of living, state income taxes, and the availability of healthcare resources is also key when choosing a retirement location.
For example, U.S. News and World Report recently named Lancaster, Pennsylvania, the best place in the country to retire, based on lower home prices and plentiful healthcare amenities. San Jose, California, ranked 150th because of sky-high real estate. In this ranking, the average San Jose home costs 5.6 times as much as the average Lancaster County home. When looking at these kinds of reports, it's easy to see how moving may stretch retirement resources.
Claim Social Security Benefits at the Right Time
While 62 is the earliest eligibility age for Social Security benefits, for some people, it makes sense to wait. At full retirement age (66 to 67, depending on your date of birth ), you will receive 100% of your benefits. But if you can delay claiming benefits until age 70, you will also get an 8% boost. In other words, you'll receive more benefits if you can wait until age 70 to claim Social Security.
When both spouses work, the order in which you make your social security claim also matters. It's often wise to have the lower earner claim benefits at full retirement age while the higher earner waits until age 70. Over time, the higher earner's increases will be worth more than the lower earner's increases. Delaying the higher-earning spouse's benefits could also eventually increase the other spouse's survivor benefits.
When one spouse's Social Security estimates are more than twice as high as the other's, the spouse with the lower benefits can claim first based on their own earnings record and then apply for spousal benefits later when the spouse with the higher benefits starts to collect.
Try to Load Up Your Retirement Savings
Whether you're 25 or 55, it's never too early or late to start saving for retirement. The closer you get to retirement age, the more seriously you'll need to think about redirecting resources into a retirement fund.
Ideally, you'll have a lifetime of savings to lean on, but no matter where you are in relation to retirement, you can still make progress. 401(k)s, IRAs, annuities, and other savings plans offer ways to shore up your savings before retirement.
A Little Life Insurance Goes a Long Way
While you may not want to spend on huge life insurance policies, getting a small one to cover a year's income is extra protection for your spouse or family. Even a $20,000 policy will give your spouse or family a financial cushion to help with funeral expenses. While life insurance alone is not a retirement strategy, it can help a spouse with extra funds when needed most.
Even if It's Not Perfect, Have a Plan
While many people find they are behind in retirement planning, there's still time to get back on track. When you work with Mark Vergenes at Mirus Financial Partners, he'll help you assess your current situation, make adjustments to help support a better retirement, and give practical tips for investing, social security, and life insurance. Contact Mark today to get started.
Distributions from traditional IRAs and employer-sponsored retirement plans are taxed as ordinary income and, if taken prior to reaching age 59½, may be subject to an additional 10% IRS tax penalty.
Although it is possible to have guaranteed income for life with a fixed annuity, there is no assurance that this income will keep up with inflation. There is a surrender charge imposed generally during the first 5 to 7 years or during the rate guarantee period. The guarantee of an annuity is backed by the claims-paying ability of the issuing insurance company. Withdrawals prior to age 59½ may result in a 10% IRS tax penalty in addition to any ordinary income tax. The guarantee of the annuity is backed by the financial strength of the underlying insurance company. Investment sub-account values will fluctuate with changes in market conditions.
An investment in a variable annuity involves investment risk, including possible loss of principal. Variable annuities are designed for long-term investing. The contract, when redeemed, may be worth more or less than the total amount invested. Variable annuities are subject to insurance-related charges, including mortality and expense charges, administrative fees, and the expenses associated with the underlying sub-accounts. Investors should consider the investment objectives, risks and charges, and expenses of the variable annuity carefully before investing. The prospectus contains this and other information about the variable annuity. Contact your financial professional to obtain a prospectus, which should be read carefully before investing or sending money.